Summer Programs
Summer programs and internships for ages 12-19
Huliau EcoAdventure
Students entering grades 7-9
July 26th-29th, 2022
Our summer EcoAdventure program is back with a four day adventure planned by our staff and Huliau Alumni Council!
The program fee is $200 for four days and need-based scholarships are available. Parents will pick-up and drop off at the designated sites each day.
This year's program will visit four sites from 9am-4pm each day:
Day 1: Nohoʻana Farm in Waikapū
Activities will include working in the loʻi kalo, learning about the importance of canoe crops as food sources, and swimming in the stream.
Day 2: Maui Nui Botanical Gardens
Activities will include learning about the uses of native plants and learning various hana noʻeau (traditional skills/crafts) using native plants.
Day 3: Kaʻehu Bay
Activities will include a beach clean-up, creating art out of marine debris, a kilo activity, and water quality testing and stream monitoring. 
Day 4: Kīpuka Olowalu (transportation provided from Kahului)
Activities will include a tour of the farm to learn about how sustainable farming practices and native plant restoration can help protect the reef, a farm service project, and swimming and snorkeling around Olowalu reef.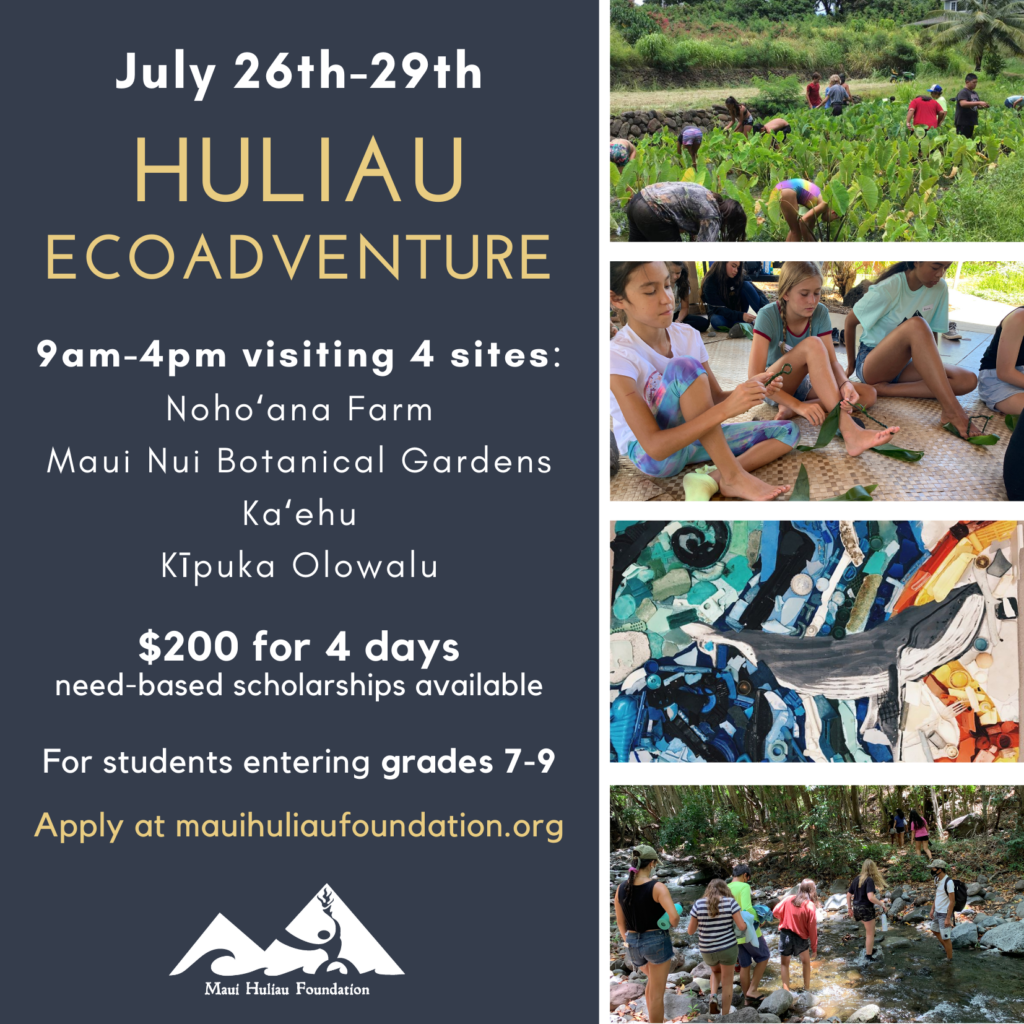 Waiheʻe Huakaʻi
An overnight program for ages 13-18 June 29th-30th
Join Maui Huliau Foundation and program partners for an overnight huakaʻi (field trip) exploring Waiheʻe ahupuaʻa from mauka to makai. Students will be dropped off and picked up at the Waiheʻe Coastal Dunes and Wetlands Refuge where we will camp overnight. We will then hike the first mile of Waiheʻe Ridge Trail with Mauna Kahālāwai Watershed Partnership to learn about how native plants help to protect our supply of freshwater. We will then return to the refuge to set-up camp, learn about the history of Kapoho village, and participate in activities hosted by Hawaiʻi Land Trust. The next morning we will participate in a half-day service project at the refuge.
Students will be asked during the application process if they have their own camping gear to bring. Maui Huliau will provide other camping gear as needed as well as dinner, breakfast and snacks. Students will bring their lunch for the first day and pick up is at noon on the second day. More details on camping gear and transportation will be sent to applicants after you apply.
This program has a $50 fee to help cover the costs of meals and transporation. Need-based scholarships are available and easy to apply for.
Other Summer Opportunities
Single Day Service Projects and Programs for Ages 12-18
During June and July 2022 our staff, alumni and leadership students will be organizing single day and half day service projects, ʻāina-based programs and career programs for students ages 12-18. The first opportunity in Waiheʻe is posted above. Opportunities will be posted here and on our Instagram and Facebook sites (@mauihuliau). You can also join our service projects and ʻāina-based program student mailing list below to receive updates on programs during the summer and the school year. Parents and students may join this list.
Huliau EcoAventure Summer Interns
We are looking for high school and college students ages 16-19 to help lead our EcoAdventure program for students entering grades 7-9. This is an unpaid internship but you can earn 35 hours of community service hours and gain experience in environmental education. There will be a 2 hour mandatory training on Monday July 25th followed by four days of leading our summer program from 8:15am-4:15pm each day.
We also are offering paid internships this summer and next school year with our Zero Waste Schools & Green Events programs. Learn more about both opportunities on our internships page.
Haleakalā Backpacking Trips
Unfortunately our backpacking trips have been put on hold due to COVID restrictions and changes to the cabin reservation system. We hope to resume our annual trip in 2023.
Maui Huliau has lead annual 3-4 day backpacking trips into Haleakalā Crater for the past six years. Trips are open to Maui youth ages 12-18 who have enrolled in any of our other Huliau programs in past years. A signup form will be posted here in the spring and a mandatory pre-trip meeting will be scheduled during June. This film is from our very first crater trip in 2014.