Summer Programs
Check our our 2023 summer programs for youth in Maui County ages 12-18!
Huliau EcoAdventure
Students entering grades 7-9 (Maui County residents)
July 18th-21st, 2023
Our summer EcoAdventure program is back with a four day adventure planned by our staff and Huliau Alumni Council!
The program fee is $200 for four days and need-based scholarships are available. Parents will pick-up and drop off at the designated sites each day. Because this program is similar to our 2022 program, priority will be given to students who did not participate in the program last year.
This year's program will visit four sites from 9am-4pm each day:
Day 1: Maui Nui Botanical Gardens
Activities will include learning about the uses of native plants and learning various hana noʻeau (traditional skills/crafts) using native plants.
Day 2: Nohoʻana Farm in Waikapū
Activities will include working in the loʻi kalo, learning about the importance of canoe crops as food sources, and swimming in the stream.
Day 3: Kaʻehu Bay
Activities will include a beach clean-up, creating art out of marine debris, a kilo activity, and water quality testing and stream monitoring. 
Day 4: Kīpuka Olowalu (transportation provided from Kahului)
Activities will include a tour of the farm to learn about how sustainable farming practices and native plant restoration can help protect the reef, a farm service project, and swimming and snorkeling around Olowalu reef.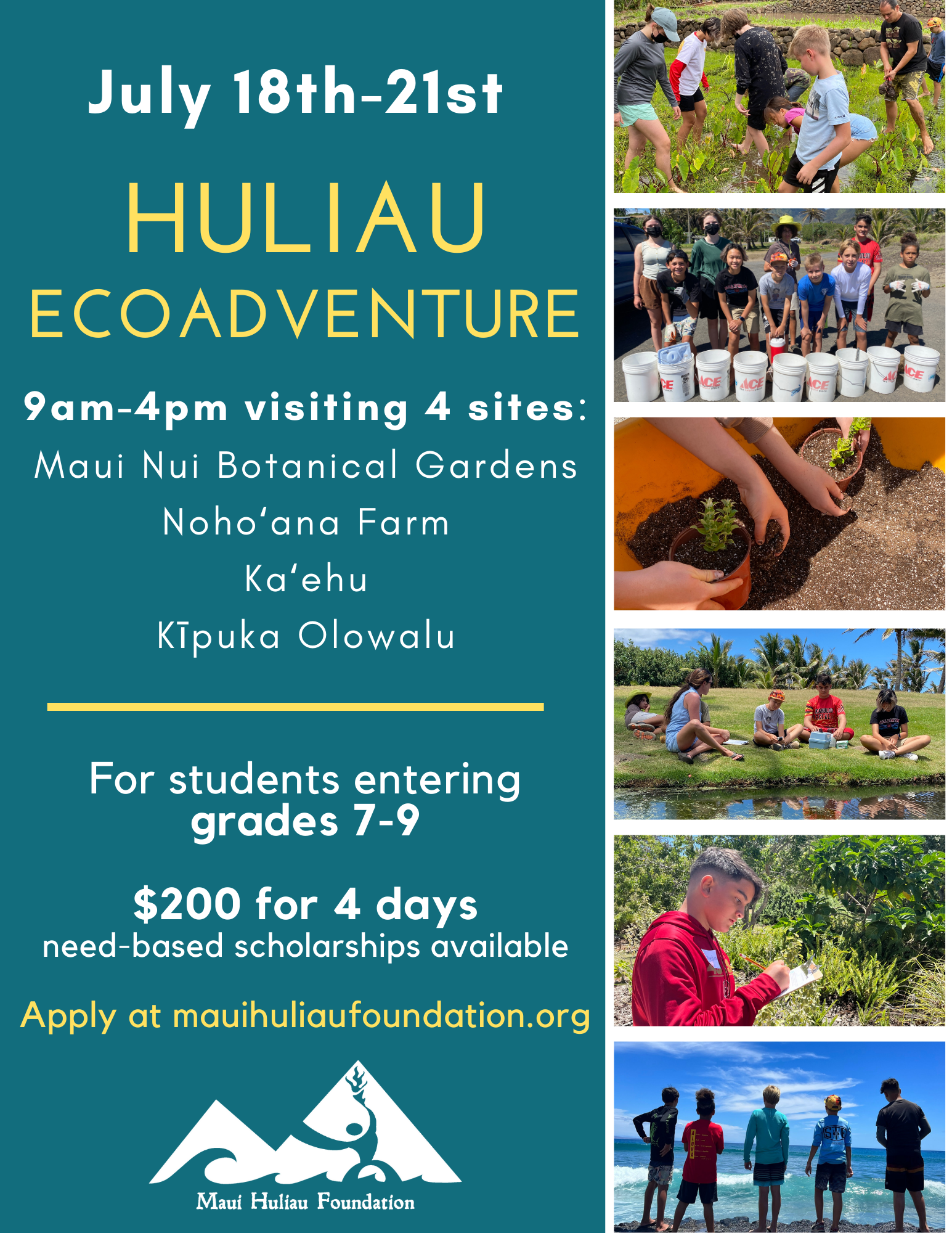 Waiheʻe Huakaʻi
An overnight program for ages 13-18 June 19th-20th
Join Maui Huliau Foundation and program partners for an overnight huakaʻi (field trip) exploring Waiheʻe ahupuaʻa from mauka to makai. Students will be dropped off and picked up at the Waiheʻe Coastal Dunes and Wetlands Refuge where we will camp overnight. We will then hike the first mile of Waiheʻe Ridge Trail to learn about how native plants help to protect our supply of freshwater. We will then return to the refuge to set-up camp, learn about the history of Kapoho village, and participate in activities hosted by Hawaiʻi Land Trust. The next morning we will participate in a half-day service project at the refuge.
Students will be asked during the application process if they have their own camping gear to bring. Maui Huliau will provide other camping gear as needed as well as dinner, breakfast and snacks. Students will bring their lunch for the first day and pick up is at noon on the second day. More details on camping gear and transportation will be sent to applicants after you apply.
This program has a $75 fee to help cover the costs of meals and transportation. Need-based scholarships are available and easy to apply for. The program is open only to Maui county residents.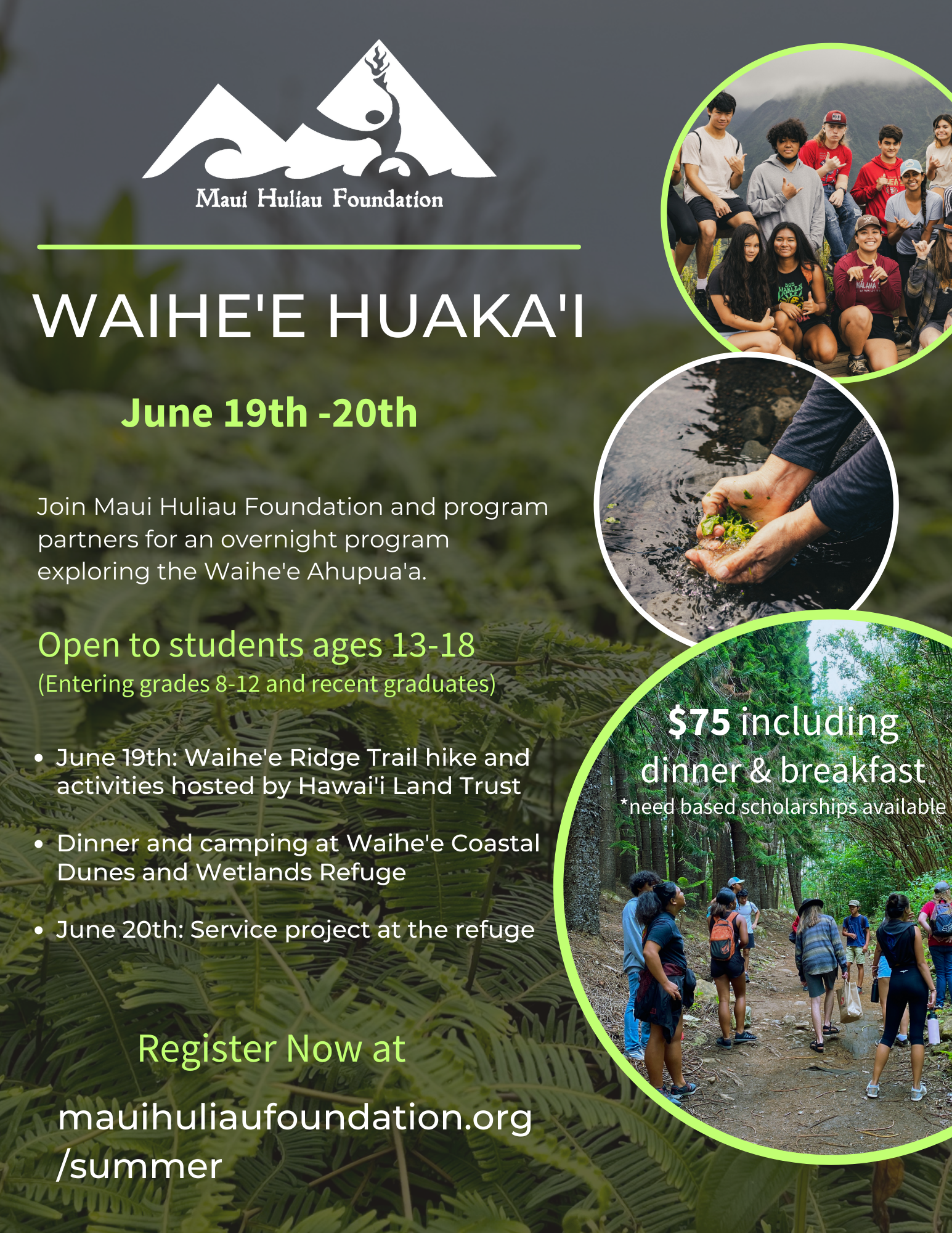 Funding for our Huliau EcoAdventure and Waiheʻe Huakaʻi has been provided in part by the Johnson ʻOhana Foundation, founded by Kim and Jack Johnson to support environmental, art, and music education.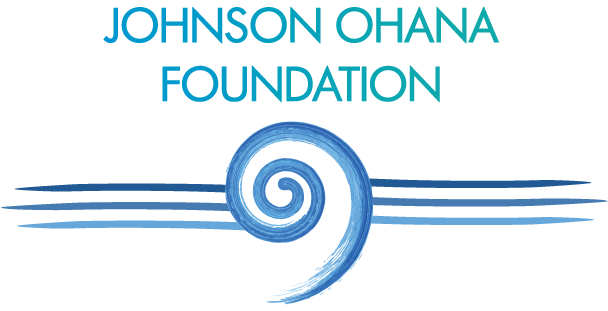 Marine Science Summer Camp
From June 14th – June 16th for youth ages 14-18
Join Maui Huliau Foundation and program partners on this 3-day adventure exploring marine ecosystems! The program includes hands-on activities, such as native plant restoration, touring marine aquaponic systems, and field work monitoring and restoring seabird habitats. The final day includes an introduction to scuba diving session with professional divers. The program fee is $125 for three days and need-based scholarships are available. Parents will pick up and drop off at UH Maui College and transportation will be provided to all sites. Please note, the last day includes an early start from 6 am-1 pm. Students will be required to complete a medical release form from their doctor for scuba diving. Students must attend the first two days to participate in the scuba diving session. Students must be at least 14 years old and Maui County residents.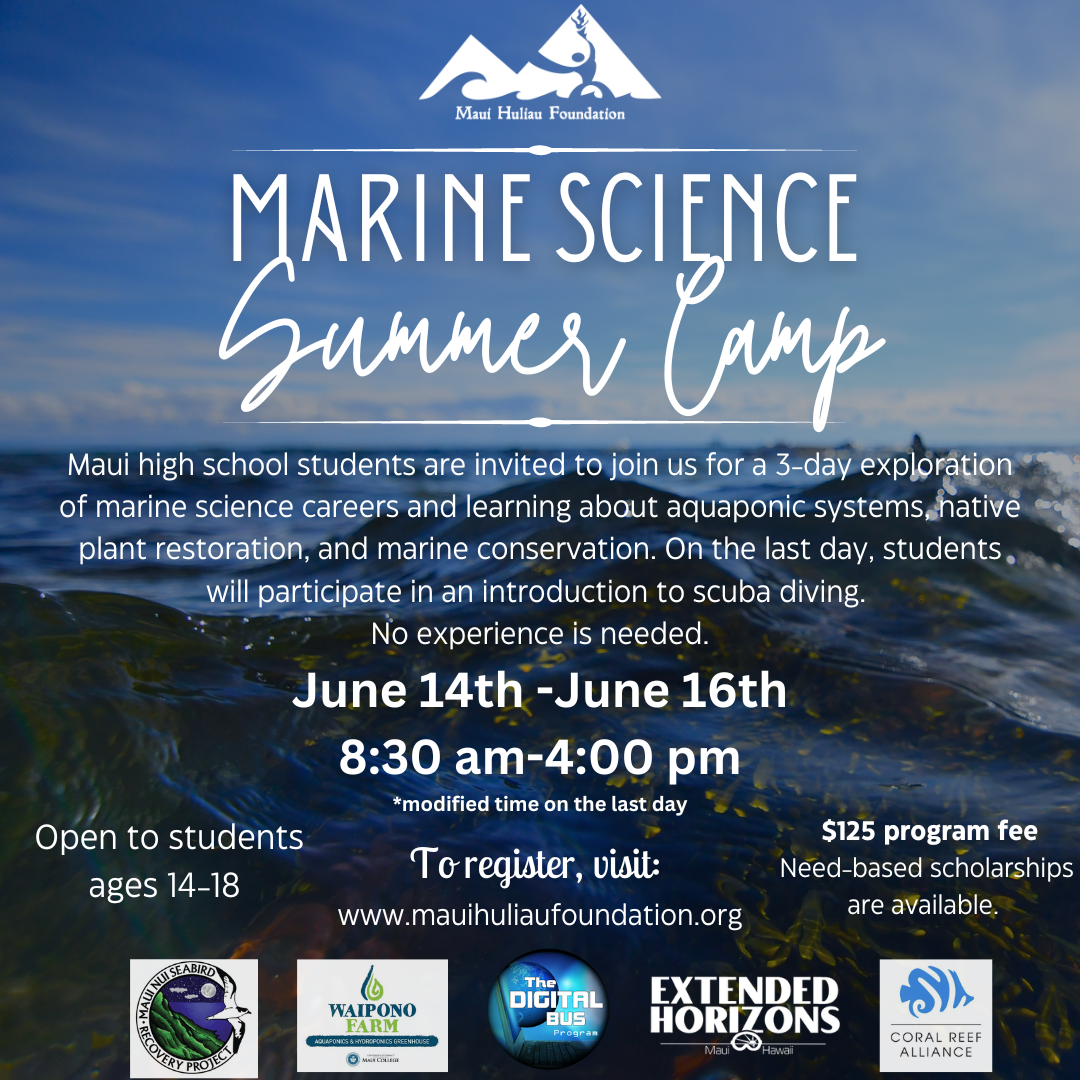 Day 1 Wednesday, June 14th, 8:30 am-4:00 pm
Maui Nui Seabird Recovery Project + Huliau Climate Literacy Project 
Students will spend the morning with Maui Nui Seabird Recovery Project at Kamaole Beach Park III and learn about their work monitoring and protecting seabird colonies. After a morning of hands-on fieldwork, a short swimming session and coastal exploration will follow. We will wrap up the day by learning about the impacts of climate change on coastal and marine environments and exploring tide pool habitats with Digital Bus. 
Day 2 Thursday, June 15th, 8:30 am-4:00 pm
Coral Reef Alliance + UH Maui College's Waipono Aquaponics 
This two-site day will start at Coral Reef Alliance's greenhouse in Central Maui where students will participate in the planting of native plants that will be used for field sites in Wahikuli. They will learn about CORAL's efforts in restoring the Wahikuli watershed to reduce the amount of sediment and nutrients flowing into the ocean and impacting coral reefs. For our second site, students will participate in a tour of Waipono Aquaponic's installations and learn about what is fresh and saltwater aquaponics (also known as marine aquaponics), their importance in Hawaiian culture, and why water quality monitoring is essential in aquaculture production. 
Day 3 Friday, June 16th, 6:00 am-1:00 pm
Scuba Diving Excursion with Extended Horizons 
Join the Extended Horizons professional dive team to participate in a scuba diving beginner's course. No previous experience is required. The experience will start with a short classroom session followed by an ocean dive with an instructor. The final number of participants will determine if we dive from shore or boat and the start time could vary depending on conditions and the dive site. The dive will take place at Kahekili Beach Park or from Mala Ramp. A medical release will be required to participate. Transportation from UH Maui College will be provided. 
Update: The program is now full and any students who apply will be added to the waitlist.
Haleakalā Backpacking Trips
Unfortunately our backpacking trips have been put on hold due to COVID restrictions and changes to the cabin reservation system. We hope to resume our annual trip in 2024.
Maui Huliau has lead annual 3-4 day backpacking trips into Haleakalā Crater for the past six years. Trips are open to Maui youth ages 12-18 who have enrolled in any of our other Huliau programs in past years. A signup form will be posted here in the spring and a mandatory pre-trip meeting will be scheduled during June. This film is from our very first crater trip in 2014.