Huliau Climate Literacy Project
Huliau Climate Literacy resources for the  2023-24 school year
In this 20-minute workshop, Program Director, Lily Solano presents an overview of resources available for grade 8-12 teachers as part of Maui Huliau Foundation's Huliau Climate Literacy Project. The workshop gives a brief overview of the units focusing on climate change causes, impacts, and solutions, including examples of in-class and virtual activities. The workshop also includes information on student-led projects, field trips, and ways that Maui Huliau staff can assist teachers in implementing a customized program for their students. After watching the video, you can register for access to our Google Classroom below or submit a request form.
 Huliau Climate Literacy Curriculum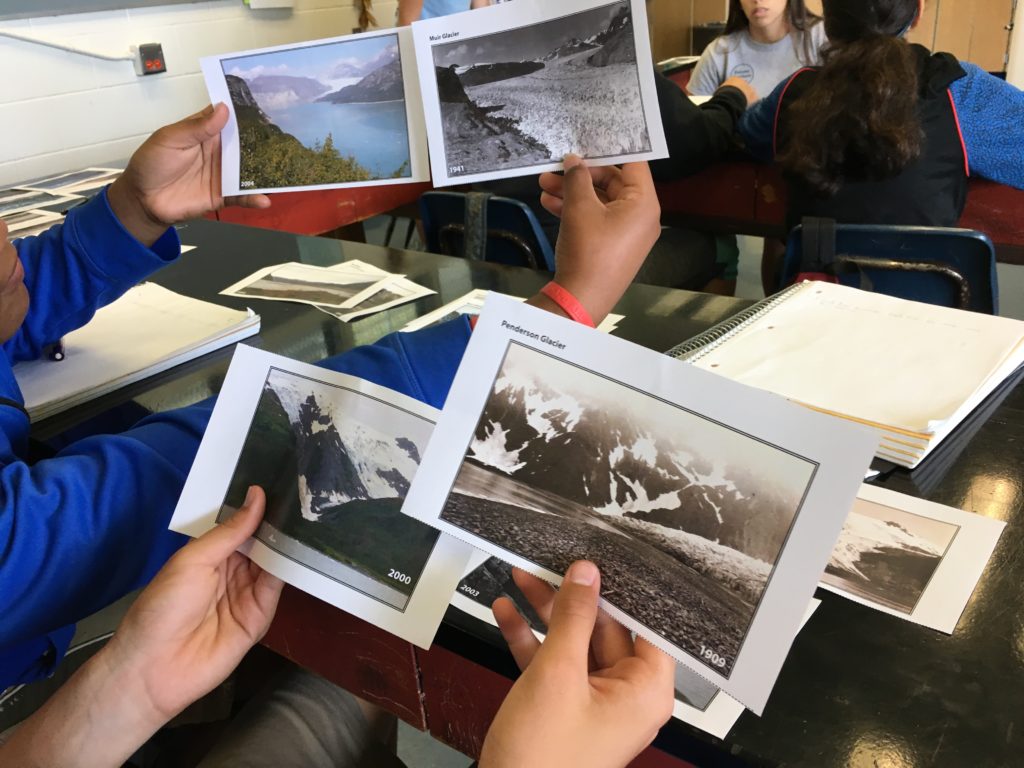 Our Google Classroom allows teachers to see the various in-class and virtual activities and to receive updates from our staff. Our staff is available to assist students and teachers in creating custom curriculum plans and facilitating student-led projects focused on climate change solutions. Students will learn about climate change causes, impacts, and solutions via videos, presentations, and hands-on activities. You can register using the button below info@mauihuliaufoundation.org for questions.
Classroom Overview
Course Introduction (1 hour)
Unit 1, Part 1: The Carbon Cycle
Unit 1, Part 2: CO2 in the Atmosphere
Unit 1, Part 3: Weather vs. Climate
Unit 2, Part 1: Melting Ice & Sea Level Rise
Unit 2, Part 2: Ocean Impacts
Unit 2, Part 3: Extreme Weather
Unit 2, Part 4: Climate Change in Hawaiʻi
Unit 3 Part 1: Finding Solutions
Unit 3, Part 2: Climate Science & Misinformation
Unit 3, Part 3: A Global Problem
Unit 3, Part 4: Taking Action
Guidance for student-led projects
In-Class Support 
Maui Huliau staff can support 8th-12th grade teachers with in-class teaching and assistance to implement our Huliau Climate Literacy Project. Below are suggested 2-week and 4-week schedules based on 60-minute class periods. Students will learn about the causes and impacts of climate change and investigate solutions. Programs can be customized to your subject and grade level. In addition to a 2 and 4-week program, we can customize a 6-week schedule as well as include Problem Based Learning lessons. Contact Program Director, Lily Solano at lily@mauihuliaufoundation.org for more information on customized programs and in-class teaching support for your classes.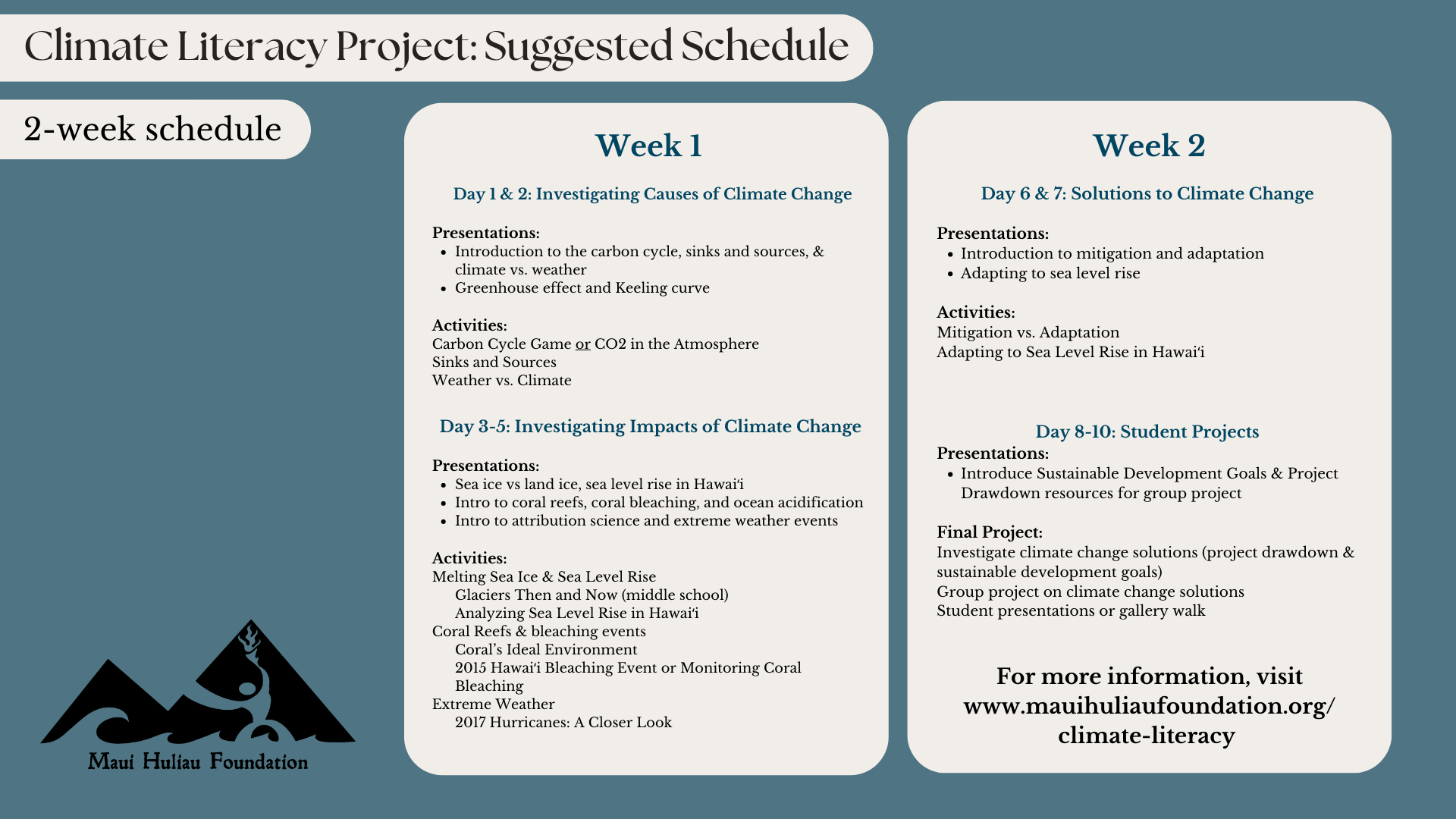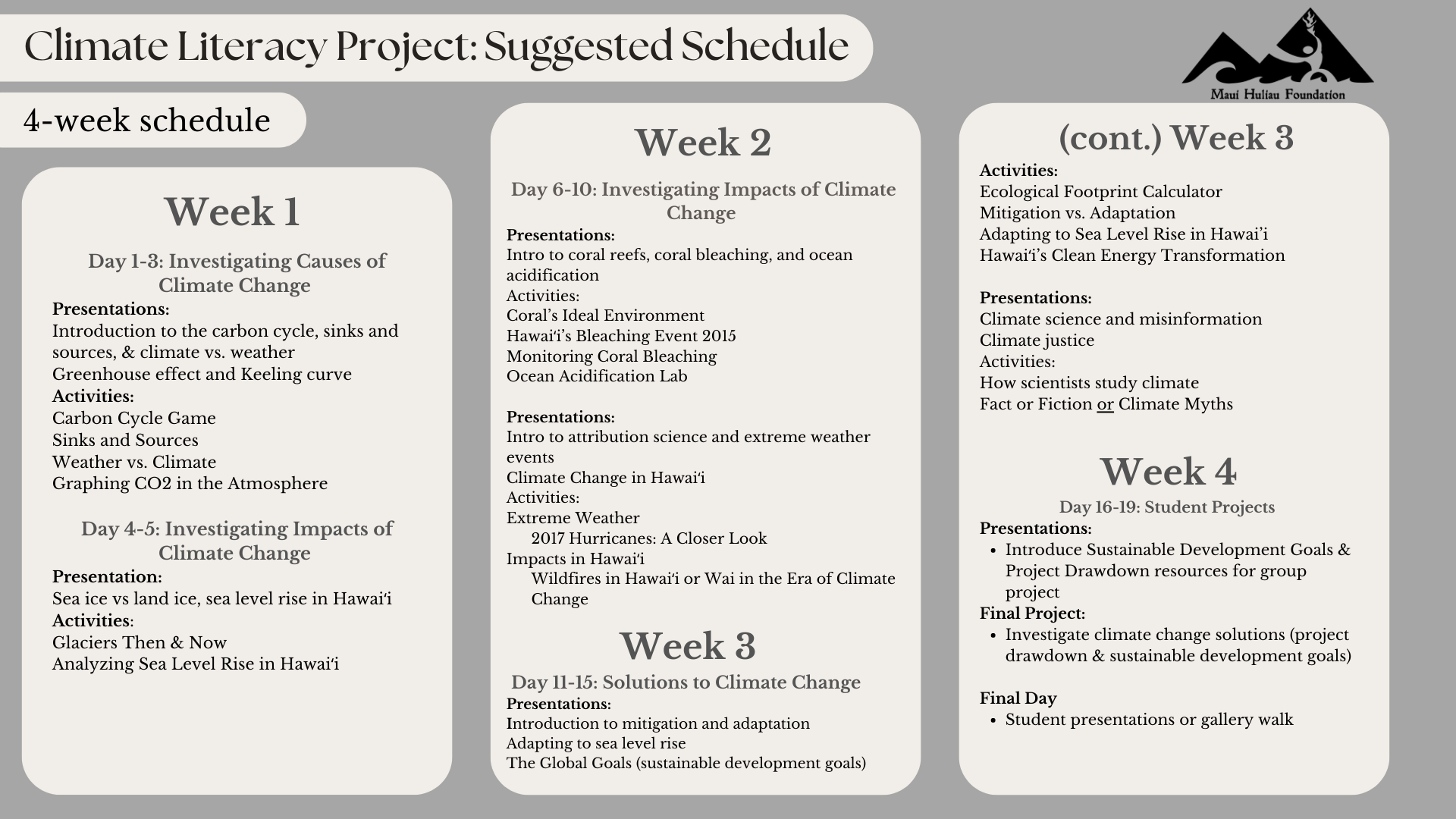 About the Program
The Huliau Climate Literacy Project was launched in the fall 2017 and has since served over 1,800 students at seven schools in Maui. The mission of the project is to work with science teachers in grades 8-12 to integrate hands-on climate literacy activities into their curriculum in alignment with the Next Generation Science Standards. The goal of the program is to build climate literacy in our community by supporting teachers in teaching about climate change and to encourage an inclusive conversation about climate change solutions.
In the 2020-21 school year, we launched a virtual classroom to help facilitate new distance and hybrid-learning models in response to COVID-19. In the 2021-22 school year we have added new in-class activities and are currently working with teachers to create and teach customized programs.
Additional Resources
Maui students in grades 8-12 interested in learning more about climate change on their own can register below to access a virtual version of our classroom. You can also view examples of student projects and climate-related art on our Climate Conversations page. Our resource library also has additional resources for both teachers and students including videos and other resource collections.
Funding for our 2022-23 program is
provided in part by the Makana Aloha Foundation and the Office of Innovation & Sustainability, part of the the Maui County Office of Economic Development.