Huliau Outdoor Leadership Council
The Huliau Outdoor Leadership Council is our newest program launched in the 2017-18 school year. The program is open to students in grades 10-12 from all Maui schools who have an interest in environmental leadership. Members meet monthly to plan service projects and other environmental leadership projects. These projects are scheduled by the council members and will take place on occasional weekends and after school in addition to normal meetings. Some projects that they coordinate are open to other students in grades 7-12 as decided on by council members. Updates on these projects and signup forms for other students will be added to this page throughout the school year as projects are planned.
Join us for International Coastal Cleanup Day!
Join our Leadership Council students for their first service project of the school year on Saturday September 15th from 9am to 11am. As part of the global clean-up effort organized by the Ocean Conservancy our students will be hosting our annual beach cleanup in front of our main program site at Hawaiian Canoe Club in Kahului harbor. At the end of the cleanup we will join up with Mālama Maui Nui's cleanup crew on the other side of the harbor for photos and free lunch.
This cleanup is open to families and whoever would like to attend. Youth ages 12-18 are particulary encouraged to attend and we will be giving out our free reuable sporks to all youth who help us clean the beach. We can also sign for community service hours for your school.
Please bring a reusable water bottle to refill and gloves if you have them. We have extra gloves and other cleanup supplies. This area has a mix of land-based and marine trash and we will be counting and reporting on what we find. Hoaloha Park is located across from Kahului Shopping Center on Kaʻahumanu Ave behind Akamai motors between Maui Beach Hotel and First Hawaiian Bank.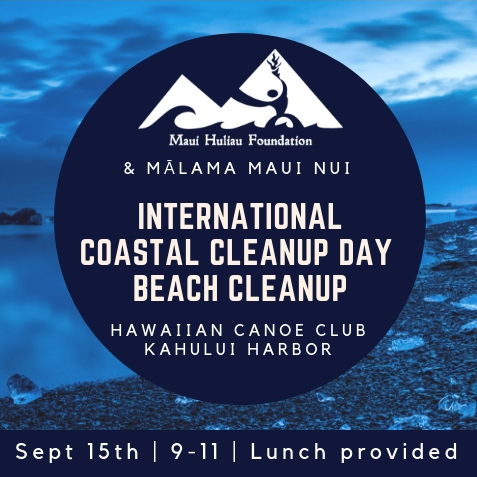 Highlights from our 2017-18 Program
Fall Loʻi Service Project at Nohoʻana Farm
Mahalo to the 30 youth who joined our Outdoor Leadership Council on Sunday November 19th to repair flood damage and plant kalo at Nohoʻana Farm in Waikapū! Mahalo to Nohoʻana Farm and the Pellegrino ʻohana for hosting us and to Flatbread pizza for providing lunch! Announcements about future service projects will be added to this page shortly and you can also follow us on social media @mauihuliau. Photos by Bryan Berkowitz.
Here are some photos by Bryan Berkowitz of the fall leadership retreat in October for council members. They filmed for the Huliau Green Events film that they are currently working on, hiked part of Waiheʻe Ridge Trail and camped at the Waiheʻe Refuge. In the spring they will plan an overnight which will be open to other students.
International Coastal Cleanup Day Beach Cleanup
Mahalo to all who joined us for our first service project cleaning up the beach in front of Hawaiian Canoe Club for International Coastal Cleanup Day!
Photos by Bryan Berkowitz.