Huliau Leadership Council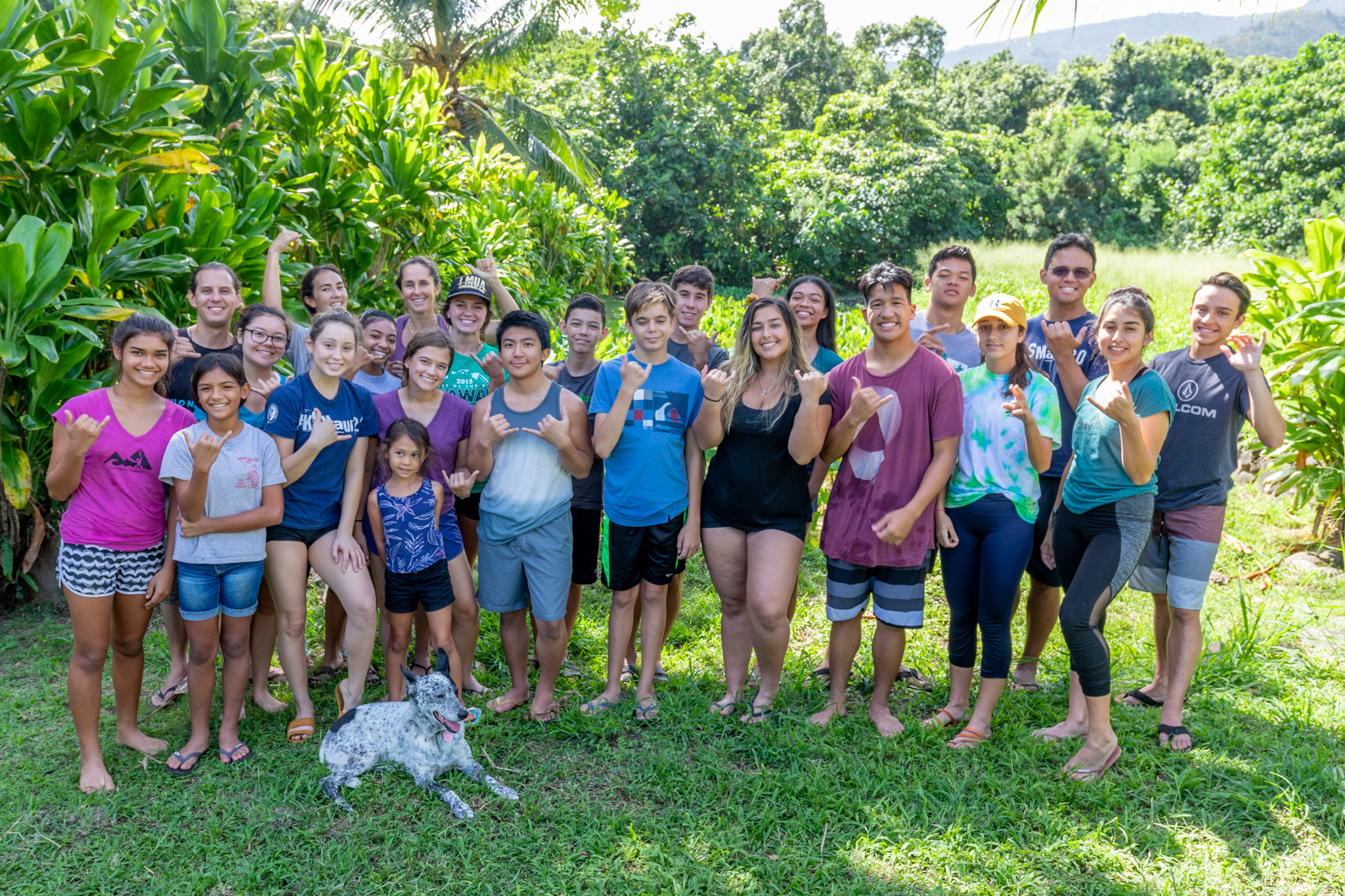 The Huliau Leadership Council was launched in the 2017-18 school year. The program is open to students in grades 9-12 from all Maui schools who have an interest in environmental leadership. Members meet monthly to plan service projects and other environmental leadership projects. These projects are scheduled by the council members and will take place on occasional weekends and after school in addition to normal meetings. Most council projects are open to other students in grades 7-12. Updates on these projects will be added to this page throughout the school year as projects are planned. 
Upcoming Youth-Led Events
Earth Month Social Media Takeover
 April 6-25th, 2020
Starting Monday, April 6th our Leadership Council students will be taking over Maui Huliau's Facebook & Instagram accounts. From tips and discussions to challenges and activities on different environmental topics. Join us for an inspiring & engaging Earth Month!
Week 1: Plastic Pollution April 6th
Week 2: Sustainable Agriculture April 13th
Week 3: Climate Change April 20th
Highlights:
Environmental Meme Challenge
Mason Jar Challenge
Student Interviews
DIY Activities
Surveys & Word Clouds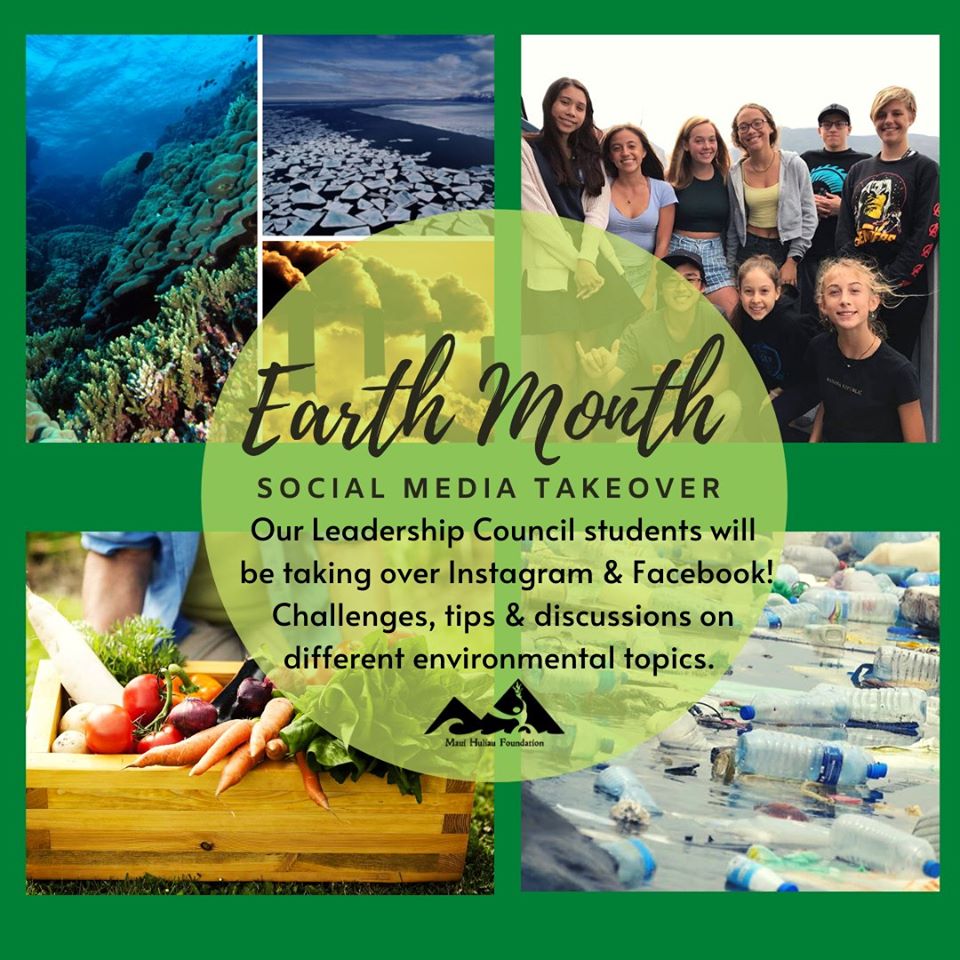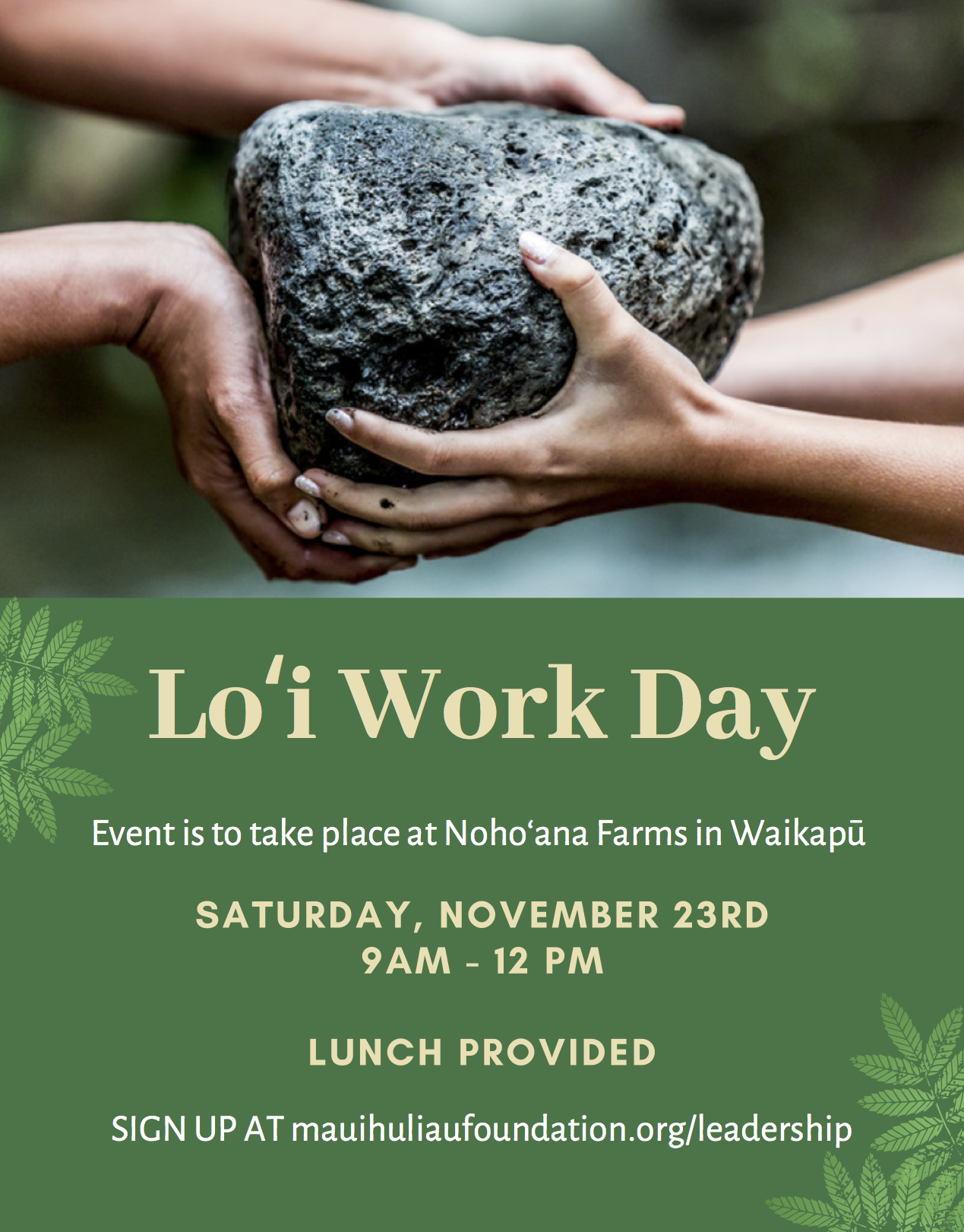 Youth Loʻi Workday at Nohoʻana Farm Nov 23rd
 9am – 11:30am followed by free pizza lunch
Join youth from the Huliau Leadership Council and the Kamehameha Schools Sustainability Club for a loʻi (taro patch) work day at Nohoʻana Farm in Waikapū.
This work day is open to youth ages 12-18 from all Maui schools. You must sign up in advance using the sign up button. We will then send you more information, directions and digital waiver to sign. This is a popular work day which usually fills up.
Students will help with various projects in the loʻi and/or kahawai (stream). Afterwards will we help make (and eat) paʻiʻai, eat pizza and swim in the stream. Students will learn about the importance of kalo and Mauiʻs freshwater resources.
Please bring a reusable water bottle to refill, a swimsuit and clothes that can get dirty. There is very limited on-site parking so students much be dropped off or carpool from Waikapū community center. More details and directions will be sent after you sign up.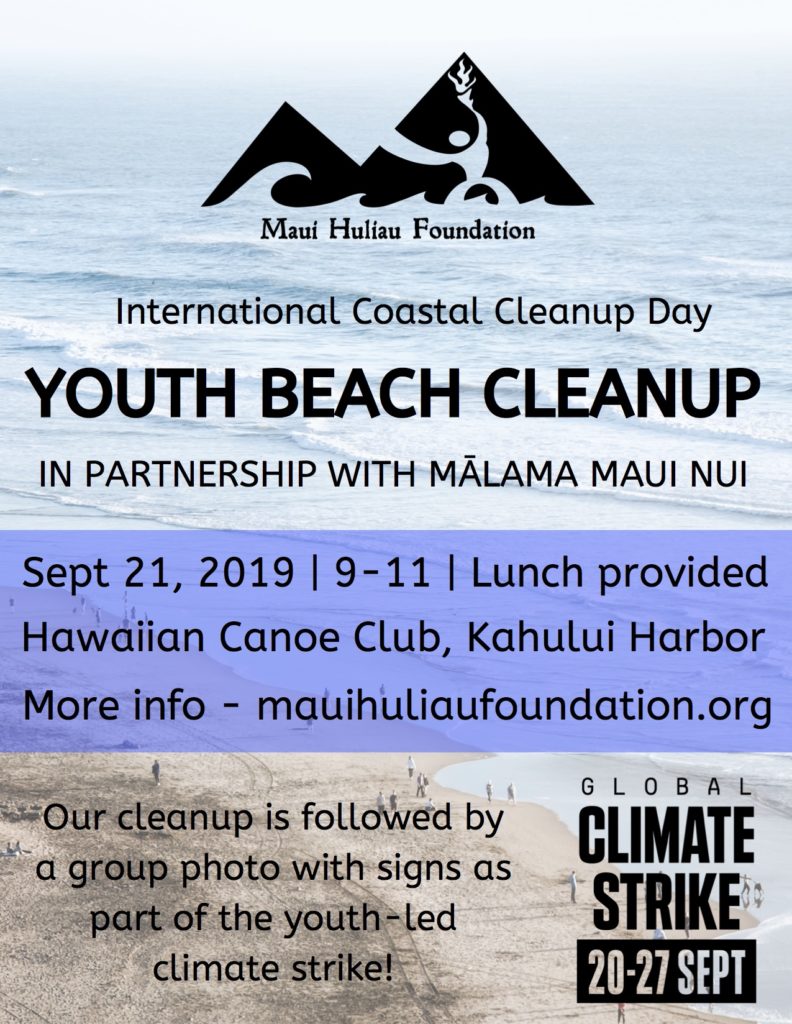 International Coastal Cleanup Day Sept 21st
 9am – 11am followed by lunch
Join youth from the Huliau Leadership Council to clean the beach along Kahului Harbor on International Coastal Cleanup Day! This is a youth-led clean-up but families and people of all ages are welcome to join us.
As part of the youth-led Global Climate Strike September 20-27th we will be ending our clean-up with a group photo with the trash we collected and signs about how climate change is impacting our oceans. We will bring signs left over from the Maui Youth Climate Strike on the 20th. You are welcome to bring your own sign (from cardboard or reused materials) highlighting an ocean impact that concerns you such as sea level rise, ocean acidification or coral bleaching.
We will meet in front of Hawaiian Canoe Club at 9am and clean the entire beach area of the harbor. We will then take our group Climate Strike photo at 10:45am before meeting up with Mālama Maui Nui's clean-up crew for a #zerowaste lunch and more photos on the other side of the harbor at 11am.
Please bring a reusable water bottle to refill and garden gloves if you have them. We will provide a water refill station, additional gloves and other clean-up supplies.
Please RSVP by clicking here or using the sign up button below the flyer. This helps us get a headcount to Mālama Maui Nui for lunch.
Directions: Hawaiian Canoe Club is located in Hoaloha Park in Kahului between Maui Seaside Hotel and First Hawaiian Bank. Google maps usually maps the location incorrectly so please use this link and turn off Kaʻahumanu Ave where you see Akamai Motors.
Maui Climate Strike
 4pm – 6:30pm at UHMC
On Friday, September 20th at 4pm, there will be a youth-led rally and sign waving event at UHMC. The event will begin with a short rally on the UH Maui College's "great lawn," followed by sign waving on Kaʻahumanu Avenue at 4:30 pm. After the sign waving, there will be live music, short speeches by youth climate activists, and educational tables by environmental organizations working on various climate change related initiatives.
The event is hosted by the Student Ohana for Sustainability Club at Maui College ("SOS") and planned in collaboration with Hawaiʻi Youth Climate Strike, The Climate Reality Project Hawaiʻi Chapter, 350.org, Sierra Club Maui Chapter, Maui Huliau Foundation, and Citizens' Climate Lobby. Attendees are encouraged to bring their own homemade signs and a reusable water bottle, as this is a zero waste event.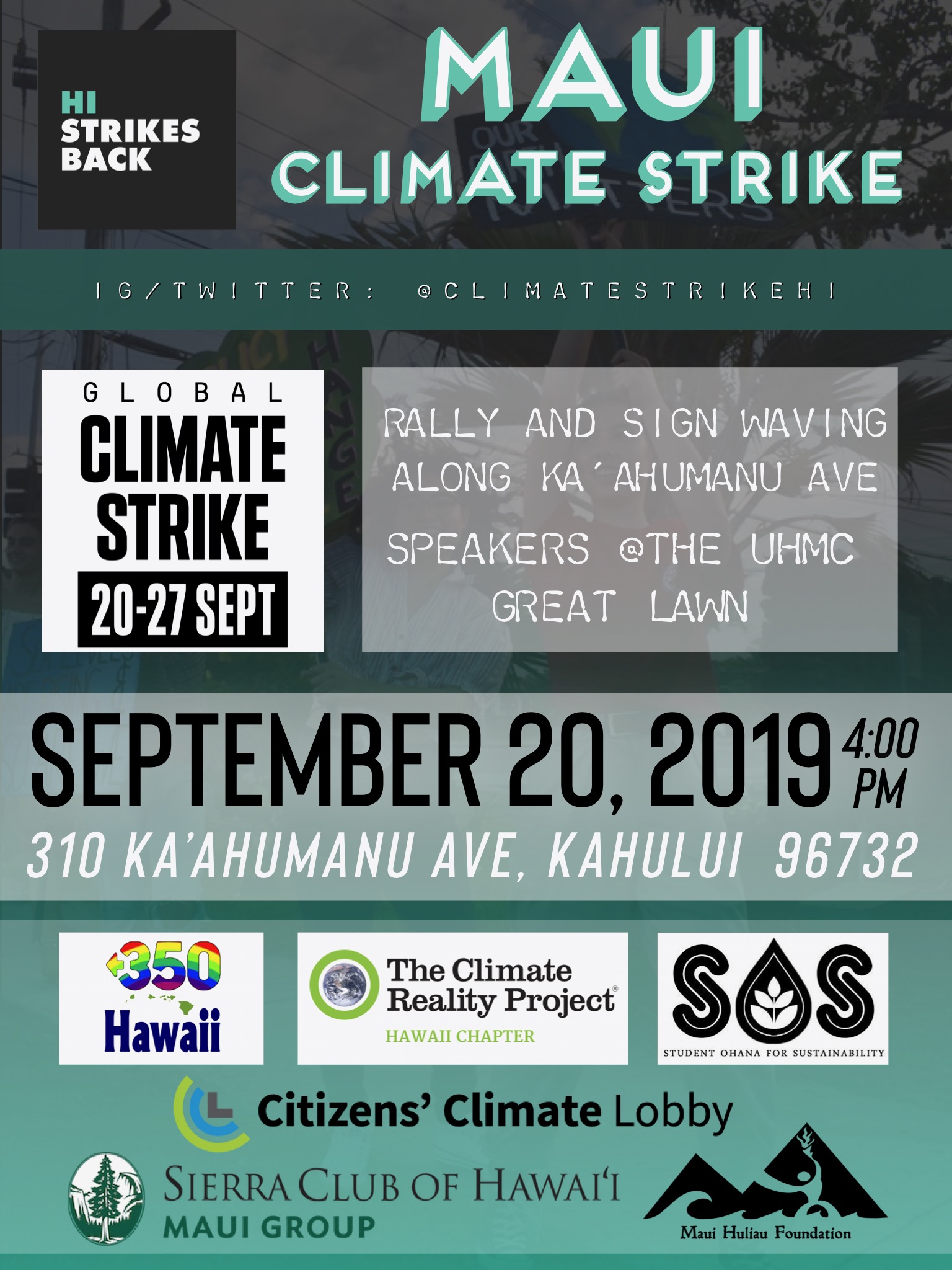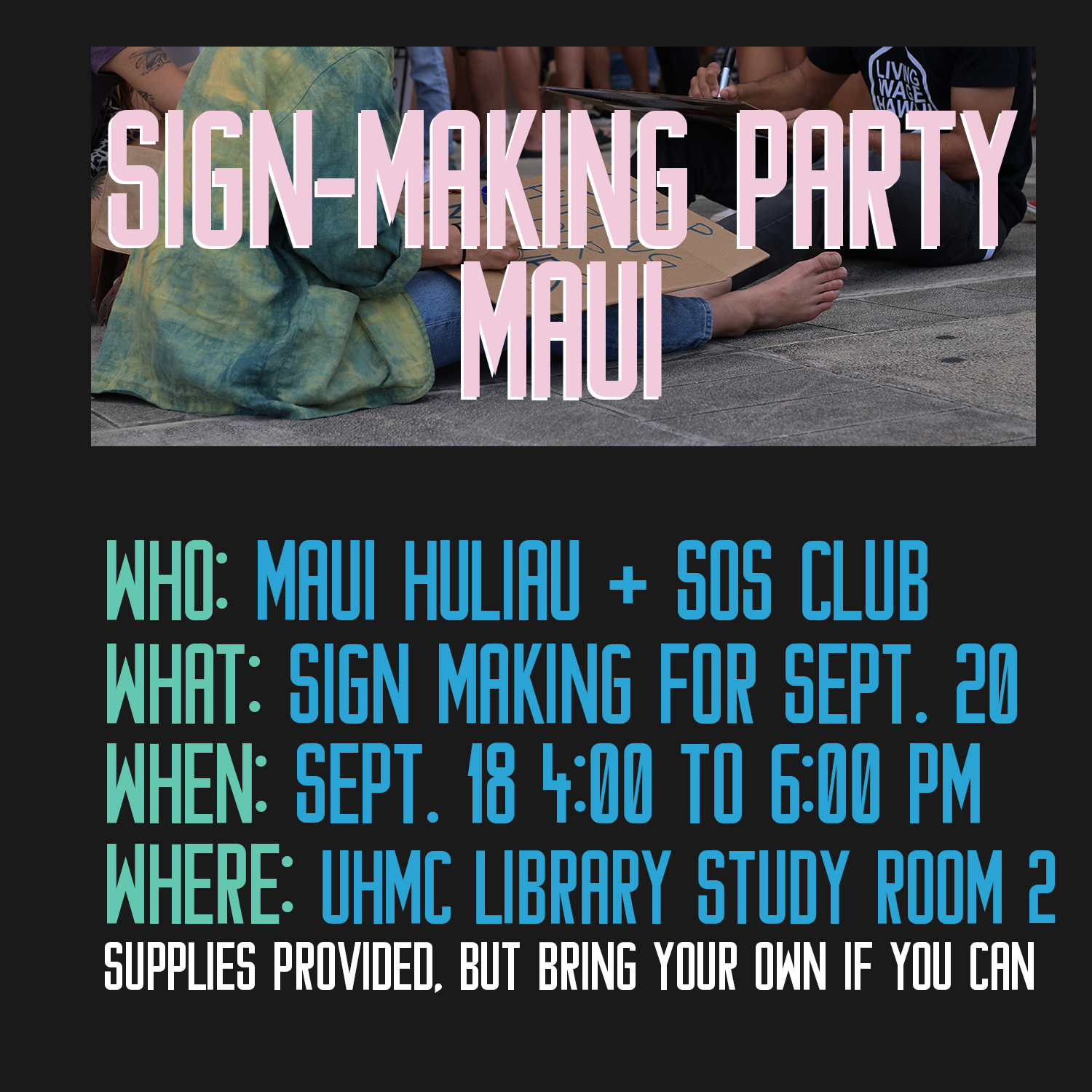 Youth Sign-Making Sept 18th
September 18th there is a youth sign making party hosted by UHMC's Student Ohana for Sustainability for college, middle and high school students. We will make signs for the Climate Strike events and watch footage from that morning of Greta Thunberg and Xiuhtezcatl Martinez speaking in front of the US Supreme Court. It is at 4pm at the UH Maui College Library Study Room 2. Pizza is provided to all youth participants. Bring cardboard, paint or markers if you have them.