Careers in Conservation
This page contains information on our Careers in Conservation resources for Maui County high school and college students. Below you will find recordings of past presentations and events, as well as links to outside resources. You will also find information on upcoming events in the 2023-24 school year.
As part of our Careers in Conservation series, Maui Huliau Foundation, and our program partners have now hosted two rounds of in-person events where high school and college students can learn hands-on career skills from professionals working to protect Maui's natural resources and ecosystems from mauka to makai. We're excited to announce the return of these events this Fall 2023! Save the dates for the mauka & makai career events. These events are free and feature activity stations run by local professionals working in these fields, as well as information tables featuring volunteer, internship, and employment opportunities. Registration and more event details will be updated here in September. You can also follow us on social media for event updates!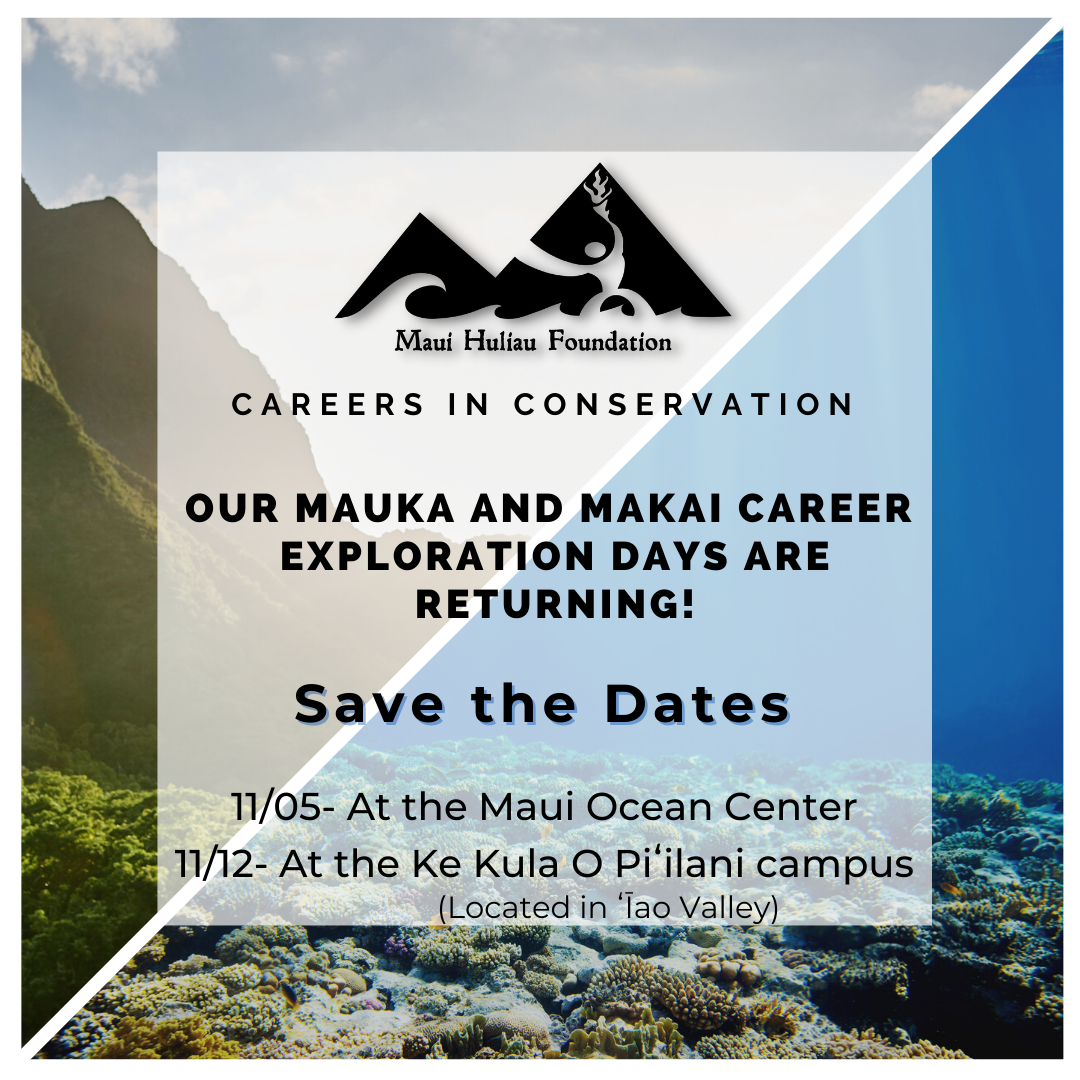 Watch this video to see highlights from our most recent fall 2022 events!
Sunday November 6th, 2022 8:30am-2pm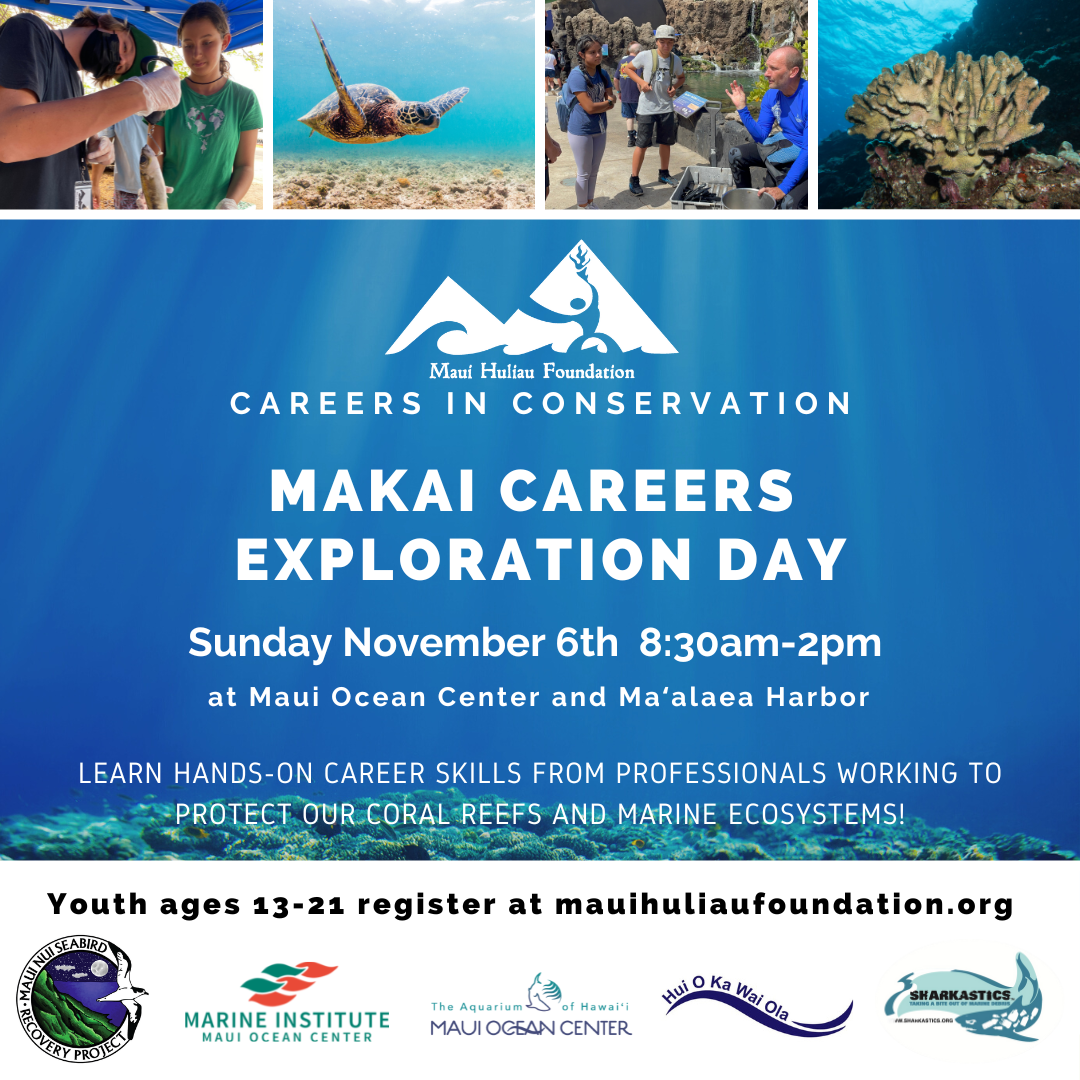 Makai Event Overview:
8:30- Registration

8:45- Intro activity in groups

9:00- First two activity rotations (see below)
10:45- Lunch and info tables:
12:00- Second two activity rotations (see below)
1:45- Closing activity and mahalo
2:00- Event ends
Students will be in four groups of 8-12 rotating between all four activity stations. Two groups will eat lunch at a time, while the other two visit the information tables.
Join Maui Ocean Center's team of ocean experts for an immersive experience in animal husbandry & public education. Journey behind-the-scenes to learn about exhibit care with our curatorial team and experience first-hand the skills used for animal husbandry.. Engage with guests alongside our marine naturalists at the popular Tide Pool exhibit, where you'll apply vital public speaking skills firsthand to impart conservation tips to our curious guests.
Presented by: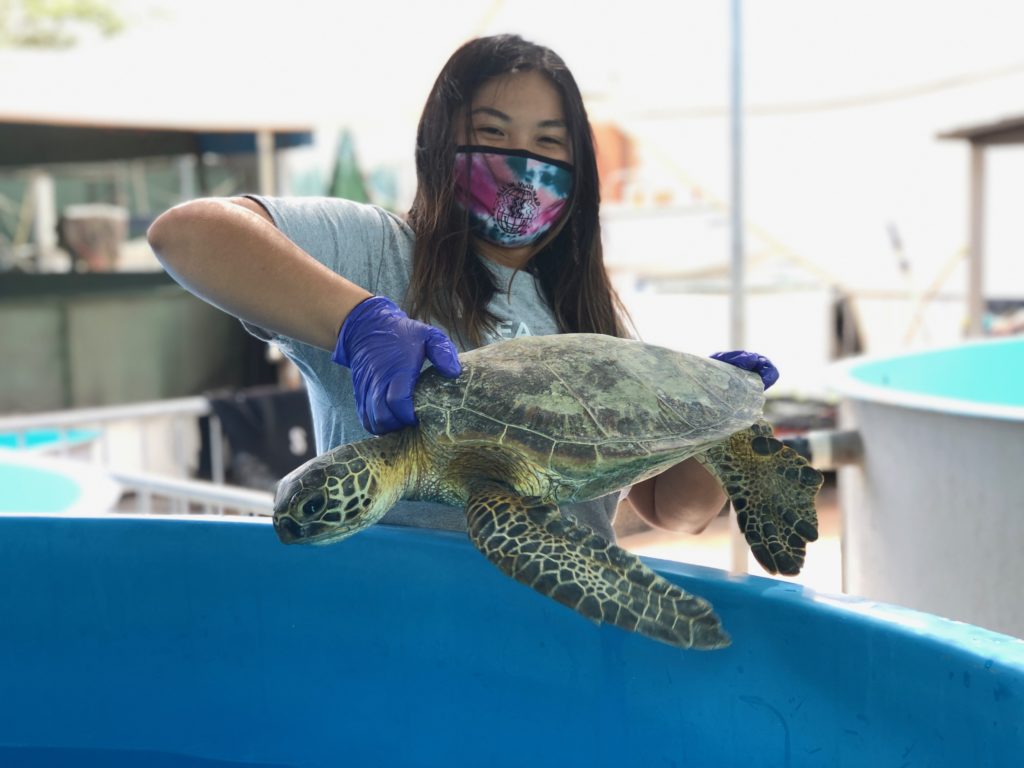 MOC Marine Institute's team of biologists work to inspire lifelong environmental stewardship and ensure the survival of coral reefs and sea turtles in Hawaiʻi through science-based conservation efforts, education, and outreach. In this station, students will learn about sea turtles and corals in Hawaiʻi during educational sessions and have the opportunity to learn about the medical care and attention needed to rehabilitate an injured sea turtle. They will also learn about the importance of reefs and the process of propagation to establish a coral plate.
Presented by:
The Maui Nui Seabird Recovery Project (MNSRP) works to protect and restore seabirds and their habitats in Maui Nui. To accomplish their mission, the team monitors seabirds in the field, tracks predators, collects and processes data, and recovers downed seabirds. The success of the project is dependent on community support, so education and outreach is fundamental to everything they do. Everyone can be a seabird guardian by learning how to identify seabirds and how to protect them from threats. At the seabird station, students will learn how to identify seabirds and take standard morphometric measurements. They will help with processing camera trap data from the field, and assess seabird and predator behavior. Finally, they will learn the proper steps to take if they find a downed seabird.
A second station activity focused on the various types of marine debris that are commonly found washed ashore, and how these items threaten the survival of our native wildlife (and how to help), will be run by SHARKastics.
Presented by:
Maui Nui Seabird Recovery Project
Hui O Ka Wai Ola is a community-based coastal water quality monitoring program. Learn how residents voluntarily test water at 29 sites across leeward Maui through hands-on activities to infer the health of our ocean water and coral reefs. We also emphasize the importance of understanding changes in water quality over time through highlighting and demonstrating the effects of ocean acidification on coral reefs and other marine organisms. Staff from Maui Nui Marine Resource Council's Hui o Ka Wai Ola water quality monitoring program will also lead students in testing water samples from Maʻalaea and learning about the factors that affect nearshore water quality.
Presented by:
Sunday November 13th, 2022 8:30am-12pm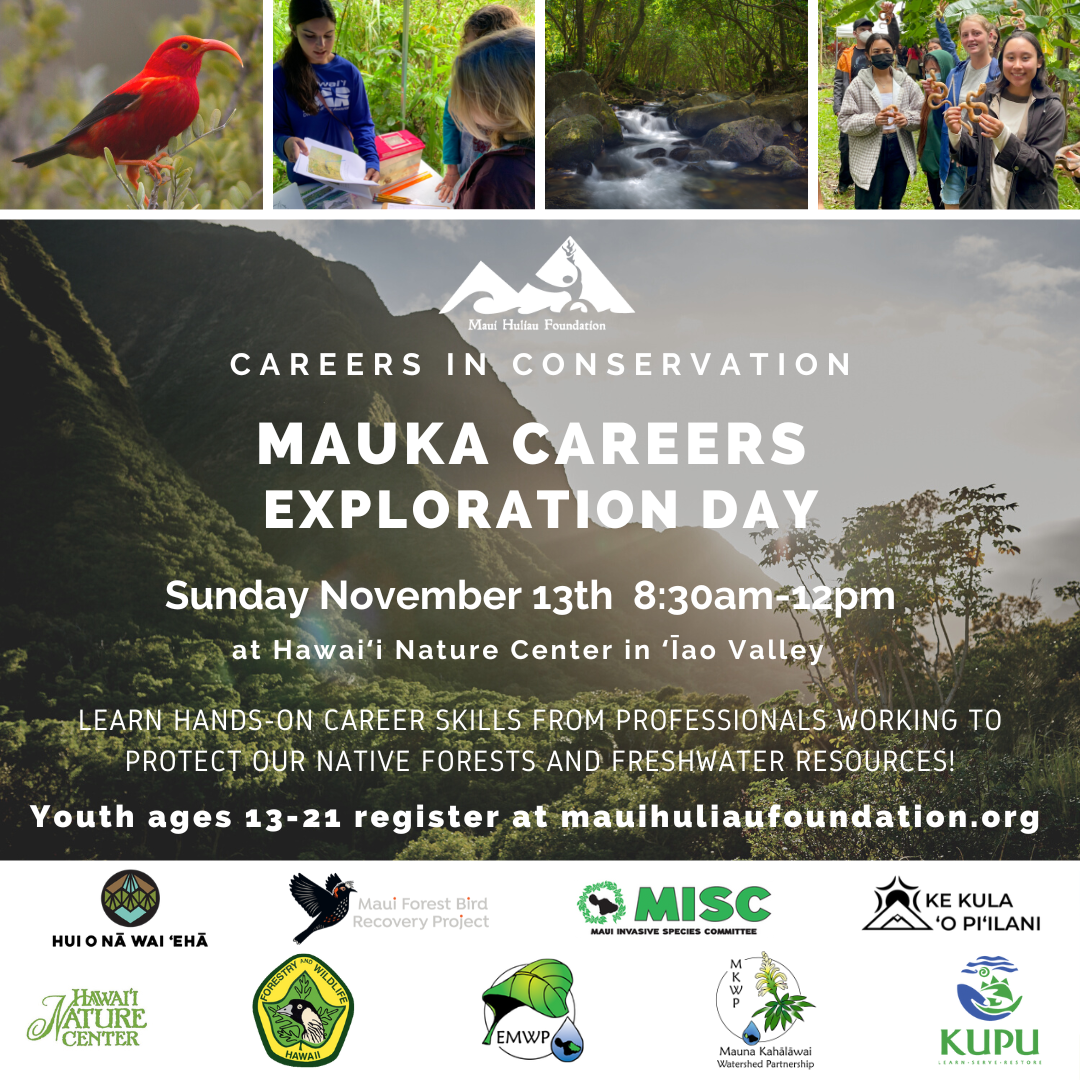 Mauka Event Overview:
8:30- Registration

8:45- O

pening protocol by Ke Kula o Piʻilani
9:00- First two activity rotations (see below)
10:35- Snack break and outreach tables
11:10- Third activity rotation
11:55- Closing Protocol: Oli Mahalo
12:00- Event ends
Students will be in three groups of 8-12 rotating between all four activity stations.
*Please note we've had a change of schedule and the event is now ending at 12:00 pm.
Two of Maui's watershed partnerships are collaborating to engage students in interactive, hands-on activities that will introduce them to the technologies and methodologies that are used in backcountry fieldwork to protect and perpetuate Maui's native forests.
Presented by:
Mauna Kahālāwai Watershed Partnership
Maui Forest Bird Recovery Project will provide a short introduction to the work we do at MFBRP, give background information on some of Mauiʻs native bird species, provide examples of how to identify native bird species, and complete a hands-on activity showcasing tools and techniques used in the field to help monitor native bird populations.
Presented by:
This two part station will highlight careers at two branches of the Department of Land and Natural Resources.
Activity 1: Uncle Skippy Hau, who recently retired after 36 years working for the Department of Aquatic Resources will teach students about native stream life and their habitat. Students will get to see native stream life up close, learn to measure hihiwai, and even release 'oʻopu, ʻopae and hihiwai into Wailuku stream (weather permitting).
Activity 2: Where in the wild? Where does your water come from? Where are the native species on Maui and who helps take care of them? Map-out the answers with Jeff Bagshaw from the State's Division of Forestry and Wildlife.
Presented by:
Conservation Career Resources
Below are internships, jobs, scholarships, career exploration resources, and volunteer opportunities for youth interested in environmental career fields.
Resources will be added and updated periodically.
College & University Programs
The University of Hawaiʻi Maui College is a public accredited college in Kahului, Maui. It is one of ten branches of the University of Hawaiʻi system offering a variety of bachelor and associate degrees. 
The UH System includes 10 campuses including 3 universities and 7 community colleges throughout the state of Hawaiʻi. Visit the UH System website to learn more about the different campuses and programs offered. Below is a list of resources for different campuses. 
Here is a list of private colleges in Hawaiʻi and resources to explore. 
Upcoming Opportunities
Below are upcoming internship, volunteer, and job opportunities. Visit the link under each opportunity to learn more.
Multiple field crew positions are open at Mauna Kahālāwai Watershed Partnership.
1) Program Assistant 
For all positions: Strong working knowledge of Hawaiian forest ecosystems, invasive species, and previous experience in natural resource management are all desirable qualities. Must have the ability to ride helicopters, hike, camp, and rappel in remote areas and rugged terrain under inclement weather conditions. Competency with GIS and GPS technologies is a plus. The ideal candidates are team players with good attitudes who are always ready to work hard, learn, and grow together.
Visit the link below to learn more about each position and apply. 
Hawaiʻi Land Trust is looking for individuals who are passionate about conservation, native ecology, and connecting community to ʻāina to join our team at Waiheʻe Coastal Dunes & Wetlands Refuge. These potions are a vital part of Hawaiʻi Land Trust's work to protect and steward the lands that sustain Hawaiʻi. Visit the link below to learn more about the positions. The deadline to apply is July 31st, 2023. 
Job Training, Internships & Fellowships
Kupu Hawaiʻi
Kupu Hawaiʻi offers a variety of hands-on opportunities for those interested in establishing a career within Conservation. Applications are open for the Conservation Leadership Development Program. Visit Kupu Hawaiʻi to learn more about this program and other opportunities.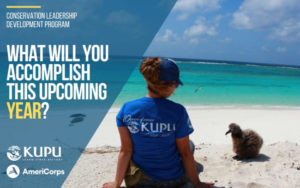 Nā Hua Hoʻohuli i Ka Pono
Nā Hua Hoʻohuli i Ka Pono is an internship program based on the island of Maui to develop high-quality candidates for exiting conservation jobs and cultivate the leaders of tomorrow. Check the Conservation Connections site for upcoming opportunities for this program. 
Conservation Compass Internships and Fellowships
Conservation Career Compass lists internships, fellowships, and volunteer opportunities in the different environmental science fields in Hawaiʻi.

Pai Ka Mana site shares a list of local scholarships for college-level students.
The Hawaiʻi Community Foundation provides a wealth of financial support to qualified students. Visit HCF's website to learn more about scholarship opportunities.
Maui Huliau Foundation is offering (2) $2,500 scholarships. The scholarship is open to high school seniors graduating in the 2021-2022 academic year, including those who have not participated in any Huliau programs.
Careers in Conservation Series
These professionals participated in this year's Careers in Conservation events: Marine Science, Watershed & Ecosystem Protection, and Environmental Educators & ʻĀina Stewards. In each presentation, they share about their career path, relevant past positions and experiences, formal/informal education, and advice for students interested in this field. You can also watch these presentations on our Careers in Conservation YouTube playlist.
Conservation Career Profiles
Below are the bios of the conservation professionals who have participated in past events.
Mahalo to all our amazing partners for making our Careers in Conservation events possible!