Careers in Conservation
This page contains information on our Careers in Conservation resources for Maui County high school and college students. Below you will find recording of past presentations and events, as well as links to outside resources. You will also find information on upcoming events in the 2022-23 school year.
As part of our Careers in Conservation series, Maui Huliau Foundation and our program partners are again inviting Maui high school and college students to participate in two in-person events where students can learn hands-on career skills from professionals working to protect Maui's natural resources and ecosystems from mauka to makai. The Makai event in Maʻalaea on November 6th will focus on careers in marine science fields, and the Mauka event in ʻĪao Valley on November 13th will focus on careers in freshwater, watershed, and native forest protection. Both events are free and will feature activity stations run by local professionals working in these fields, as well as information tables featuring volunteer, internship, and employment opportunities. 
Makai Careers Exploration Day 11/6/2022
Mauka Careers Exploration Day 11/13/2022
Watch this video to see highlights from last year's events!
More details on each activity station will be added here by mid-October. Youth ages
13-21 (grades 8-12 or college-age youth)

are welcome to apply using the button here and we will contact you with more details. Spots are limited.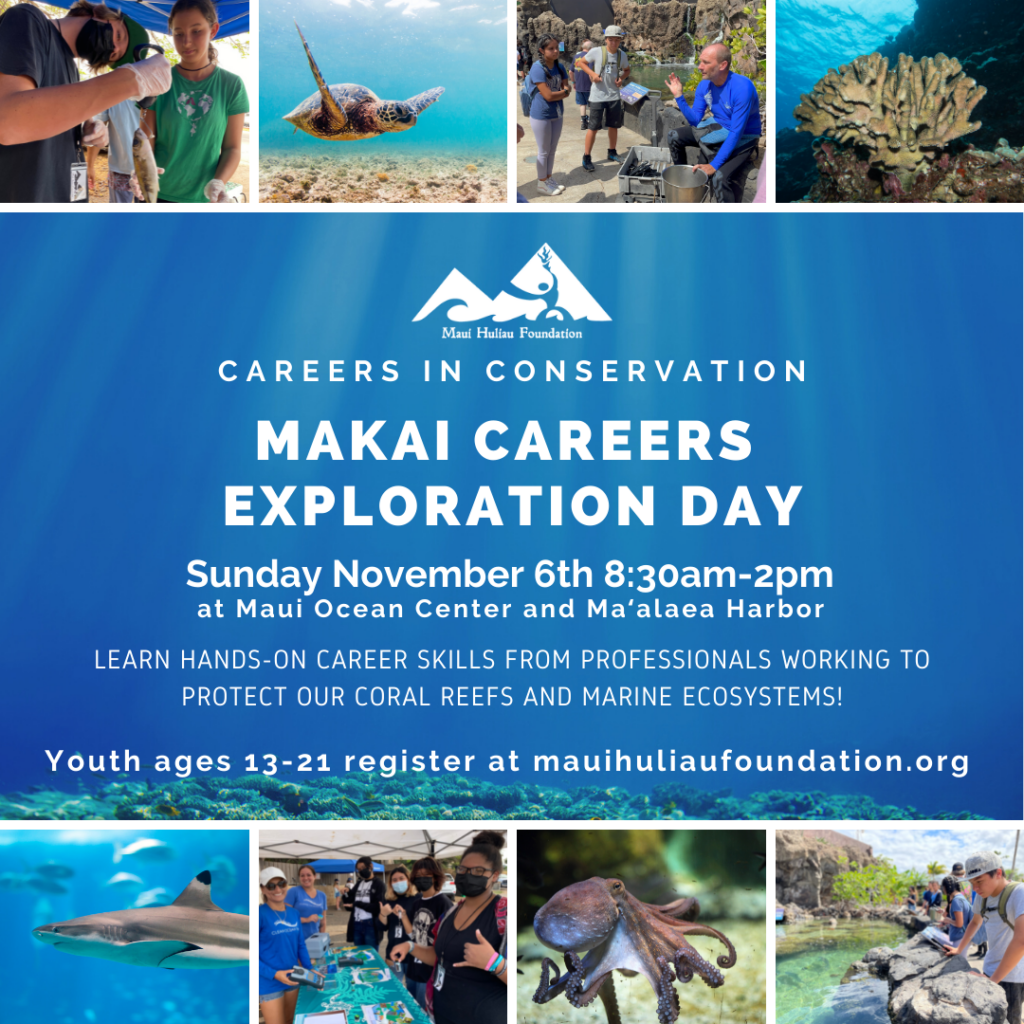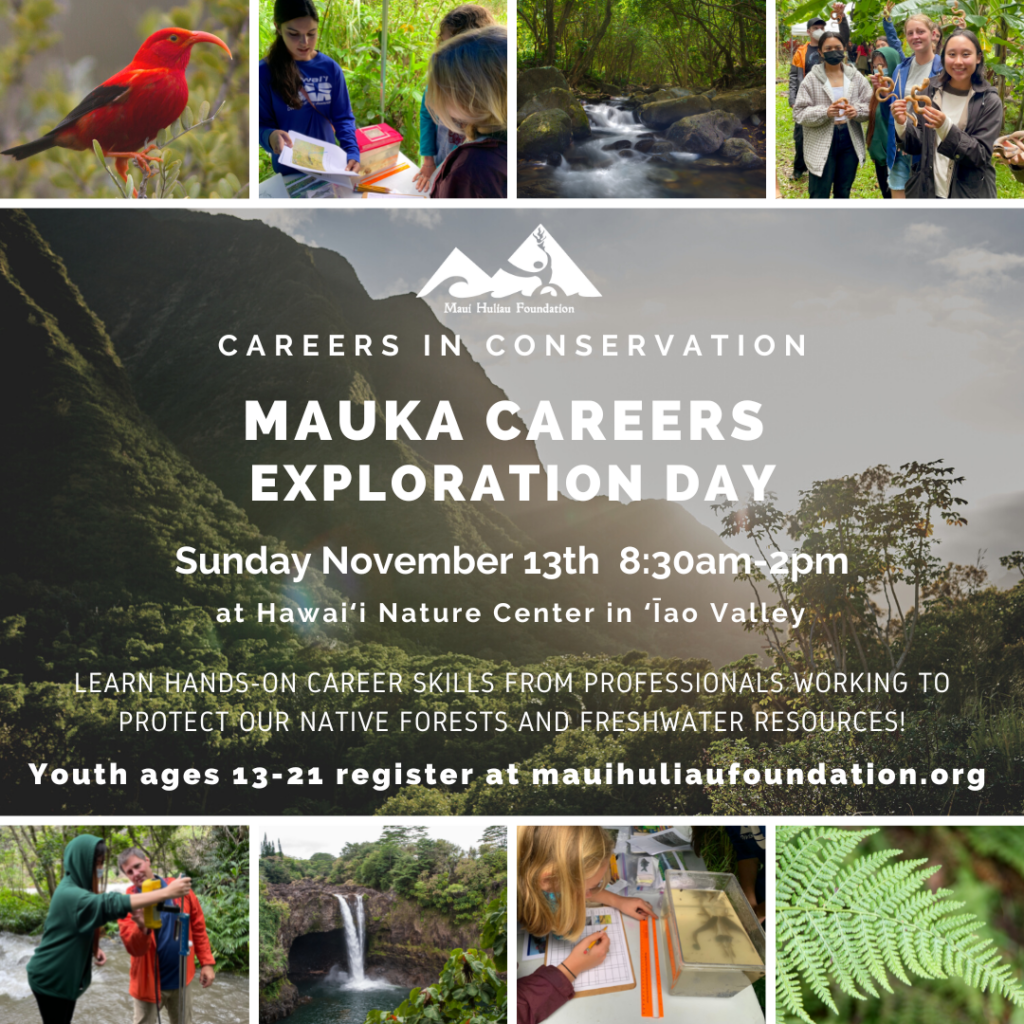 Conservation Career Resources
Below are internships, jobs, scholarships, career exploration resources, and volunteer opportunities for youth interested in environmental career fields.
Resources will be added and updated periodically.
College & University Programs
The University of Hawaiʻi Maui College is a public accredited college in Kahului, Maui. It is one of ten branches of the University of Hawaiʻi system offering a variety of bachelor and associate degrees. 
The UH System includes 10 campuses including 3 universities and 7 community colleges throughout the state of Hawaiʻi. Visit the UH System website to learn more about the different campuses and programs offered. Below is a list of resources for different campuses. 
Here is a list of private colleges in Hawaiʻi and resources to explore. 
Upcoming Opportunities
Below are upcoming internship, volunteer, and job opportunities. Visit the link under each opportunity to learn more.
A program of Kupu and Kōkua Hawaiʻi Foundation, the Hawaiʻi Youth Sustainability Challenge (HYSC) is an initiative to empower Hawaiʻi youth to create solutions to conservation and sustainability challenges in their schools and communities.The solutions to the challenges—either identified by the students themselves or by community partners—must be student-driven. Selected students must be in grades 9-12 and will receive funding (up to $1,000), coaching, and training to support their innovative and grassroots environmental initiatives. Exemplary student teams will also be selected to present at the annual Hawaii Conservation Conference. There are two ways to participate: (1) "student-identified challenge" – identify a problem in your school or community or (2) "community partner challenge" – go here to check out the problems organizations from across the state have identified that they want students to help them solve. In either case – come up with a solution and apply to join HYSC!
Application Deadline: September 30th, 2022
Skyline Conservation is hiring full-time and part-time field workers!!
Must be able to perform laborious work outdoors in remote native forests with a good attitude. You also need to be able to follow strict protocol when it comes to PPE, biosecurity, and general safety. Paid training is provided. Starting pay is $18 per hour throughout the 6-month training and vetting process. Primary duties include all aspects of native habitat protection and restoration including weed control, native seed collection and propagation, native tree planting, and some fencing work. This is a great opportunity to grow your skills in land stewardship/management. You will get to work with a skilled crew of amazing people. We work in various project areas throughout Maui County. Some travel and camping will be required for back country work.
Please email your resume to joe@skylineconservation.org
Multiple field crew positions are open at Mauna Kahālāwai Watershed Partnership.
Duties include:

backcountry fieldwork




invasive weed control




fence construction and maintenance




ungulate control




watershed monitoring




public outreach and education

Must have:

high school diploma

ability to hike several miles over rough terrain

knowledge of Hawaiian ecosystems

positive, can-do attitude


desire to learn new things
Employment is for a 20-week term. Hours are Monday through Thursday, 7:00am to 5:30pm.
To apply, simply email your resume and cover letter through the MKWP contact form linked below.
Job Training, Internships & Fellowships
Kupu Hawaiʻi
Kupu Hawaiʻi offers a variety of hands-on opportunities for those interested in establishing a career within Conservation. Applications are open for the Conservation Leadership Development Program. Visit Kupu Hawaiʻi to learn more about this program and other opportunities.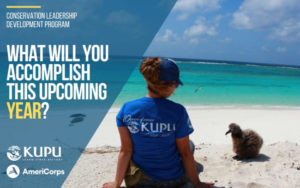 Nā Hua Hoʻohuli i Ka Pono
Nā Hua Hoʻohuli i Ka Pono is an internship program based on the island of Maui to develop high-quality candidates for exiting conservation jobs and cultivate the leaders of tomorrow. Check the Conservation Connections site for upcoming opportunities for this program. 
Conservation Compass Internships and Fellowships
Conservation Career Compass lists internships, fellowships, and volunteer opportunities in the different environmental science fields in Hawaiʻi.

Pai Ka Mana site shares a list of local scholarships for college-level students.
The Hawaiʻi Community Foundation provides a wealth of financial support to qualified students. Visit HCF's website to learn more about scholarship opportunities.
Maui Huliau Foundation is offering (2) $2,500 scholarships. The scholarship is open to high school seniors graduating in the 2021-2022 academic year, including those who have not participated in any Huliau programs.
Careers in Conservation Series
These professionals participated in this year's Careers in Conservation events: Marine Science, Watershed & Ecosystem Protection, and Environmental Educators & ʻĀina Stewards. In each presentation, they share about their career path, relevant past positions and experiences, formal/informal education, and advice for students interested in this field. You can also watch these presentations on our Careers in Conservation YouTube playlist.
Conservation Career Profiles
Below are the bios of the conservation professionals who have participated in past events.
Mahalo to all our amazing partners for making our Careers in Conservation events possible!