Huliau Food & Film Festival
A farm-to-table celebration of local agriculture featuring local chefs and student-produced films
Update: 2023 Huliau Food & Film Festival
Due to the devastating wildfires last month, we have made the decision to pivot our event to be a youth-centered meal service volunteer day to support our community in this time of need. In collaboration with our volunteer chefs, youth will work alongside them to prepare, package, and deliver lunch service to various community hubs in need of a hot meal. Locations where hot meals will be distributed are listed below.
                                    Meal:
Shepherd's Pie with Venison, upcountry vegetables, and 'ulu, with side salad & dressing
Mahalo to our volunteer chef team & sponsors supporting this new initiative!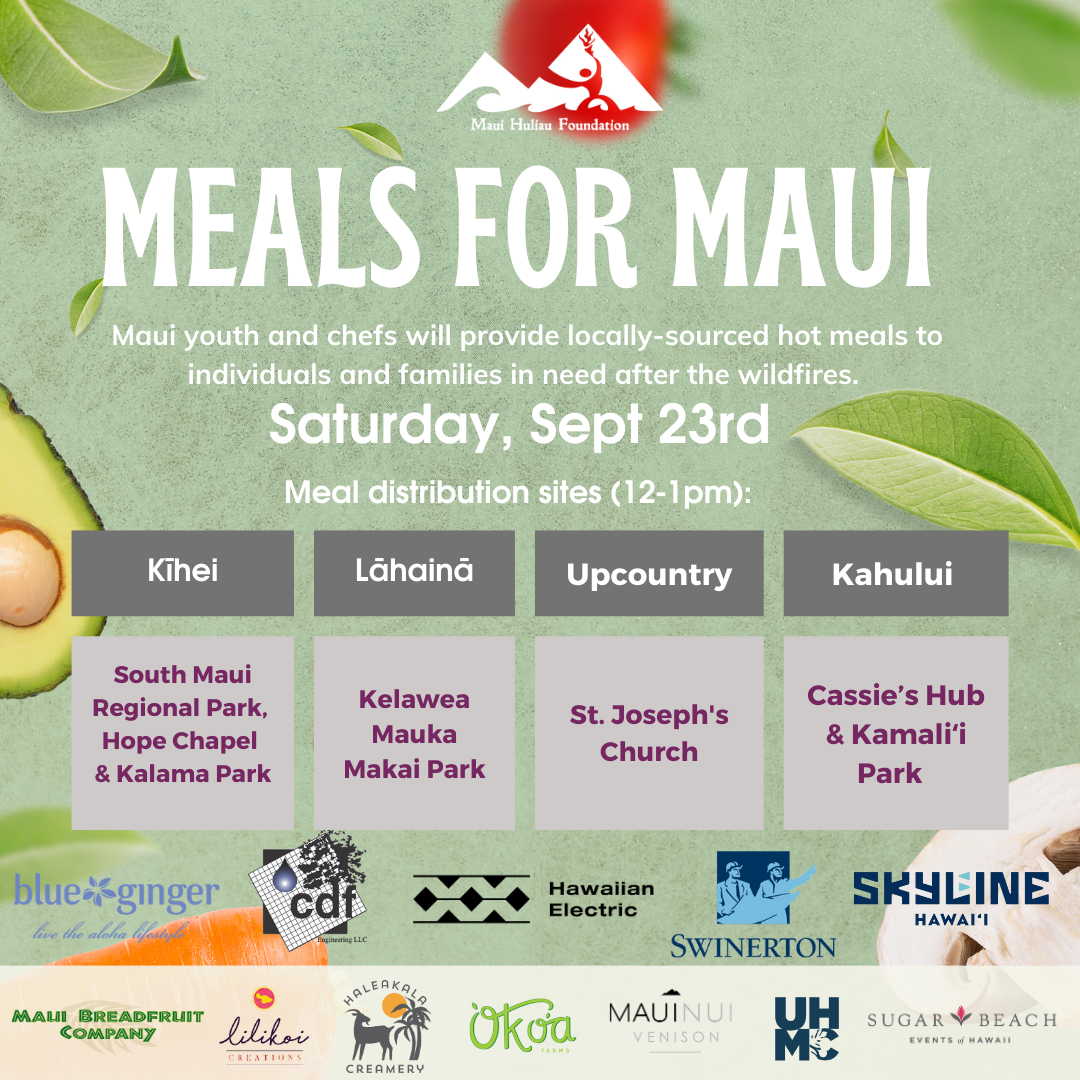 Mahalo to the talented team of volunteer chefs who are contributing their farm-to-table culinary talents to this year's event in support of our programs for Maui youth!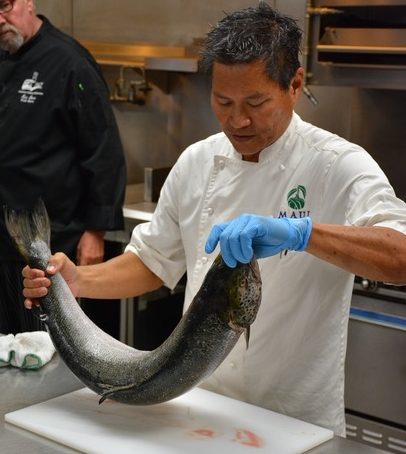 Chef Dean Louie
UH Maui College
Read Dean's bio
Dean Louie works at the University of Hawaiʻi Maui College. He began his culinary career in the San Francisco Bay Area working for Hotel Sofitel Redwood Shores, the Oakland Marriott City Center and the famous Sheraton-Palace Hotel.
Since 1999 he developed, owned and operated restaurants in Hagatna, Guam and Lahaina, Maui, then began teaching Culinary Arts classes in 2005. He was the UHMC Culinary Arts Program Coordinator from 2012-2016 and now programs and coordinates non-credit Continuing Education and Industry Training courses for Maui College.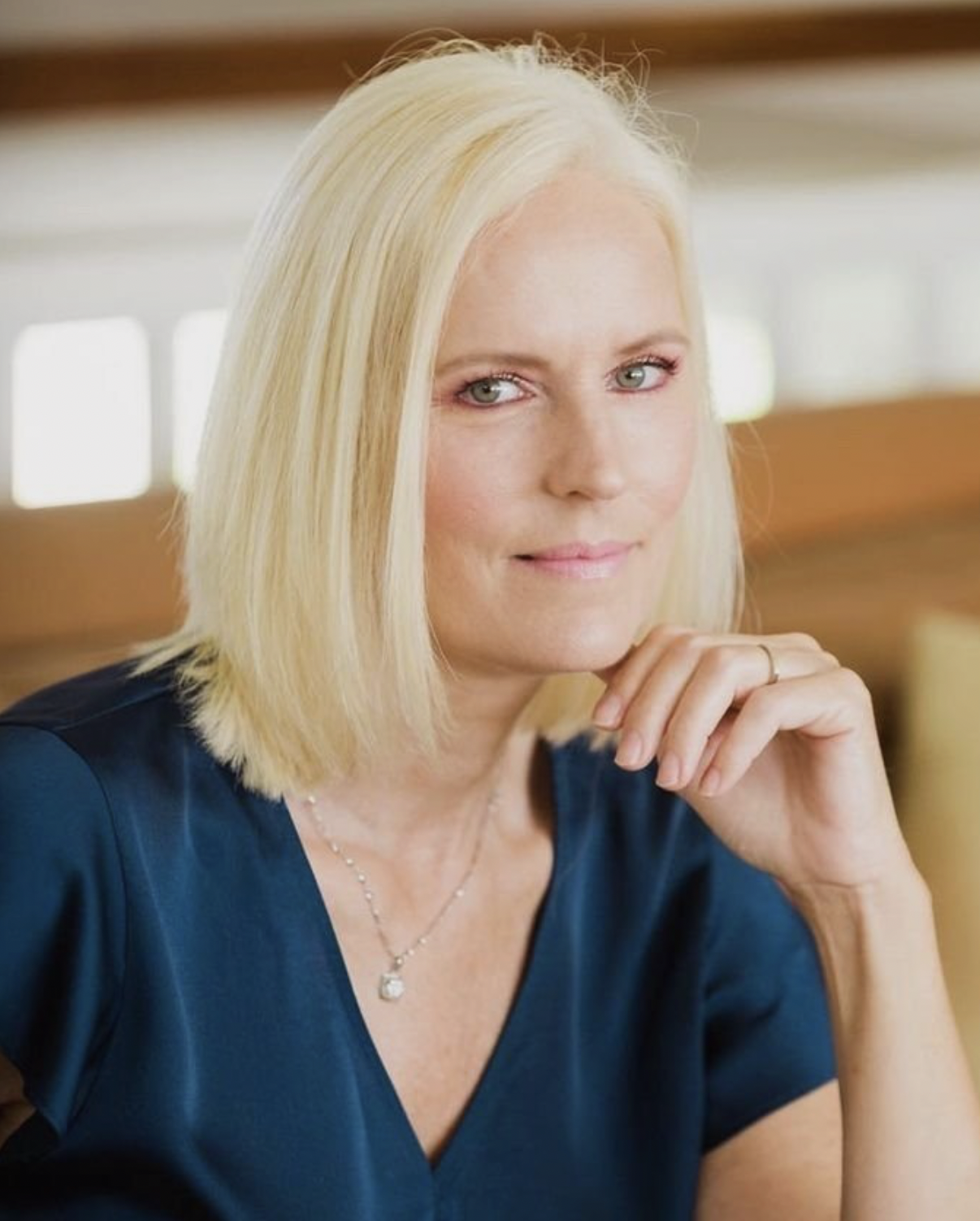 Chef Lee Anderson
Sugar Beach Events
Read Lee's bio
Originally from Charleston, South Carolina, Chef Lee's love of all things culinary began at a Mexican restaurant 30 years ago. The dedication she demonstrated there eventually led her to the opening culinary coordinator position for a national restaurant concept where she travelled throughout the southeast developing and training new employees. Working with the Director of Culinary Development, Chef Lee's career path became clear. Subsequent to that, an eight year stint with Metromedia Restaurant Group led Lee to the decision that she would move to Maui. She landed in the management team at Spago at the Four Seasons Resort, Maui. After nearly three years with Spago, Chef Lee created and sold her first catering company. Learning from that experience, she built her own ocean front venue where she is enjoying success at Sugar Beach Events.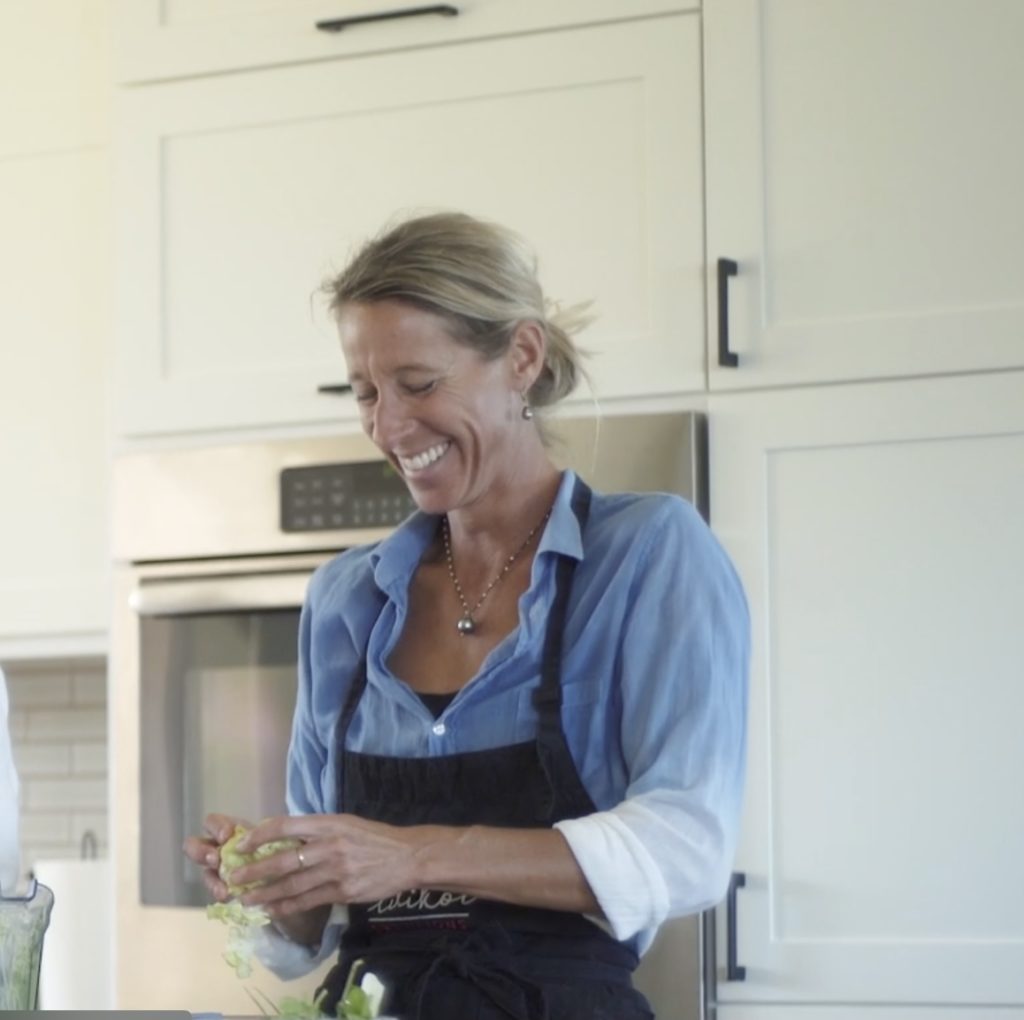 Chef Maja Liotta
Private Chef, Lilikoi Creations
Read Maja's Bio
Chef Maja Liotta is a self taught culinary professional, working in the trenches from an early age in her parent's restaurant in coastal Maine. Hauling up lobster pots on her Dad's lobster boat and foraging for mushrooms in the soggy Maine woods left a mark on Maja at an early age. Always at home in the forest and along the shores, she developed a keen eye for uncommon ingredients and honed a gift of creating meals with them.
The Liotta 'ohana made Maui home 8 years ago and their first home was on an organic farm in Keokea. It wasn't long before Maja was offered the unique opportunity to work as a chef for a private concierge to discerning clientele and her business grew from there through word of mouth.
Maja's passion is creating diverse and healthful meals for residents, friends, family and visitors to the islands. Maja is passionate about wellness and promotes clean eating and culinary instruction for local school aged children across the island for various organizations including Haiku School, Kihei Youth Center, The Blue Zones Project and Hawaii Tech Academy. She is also a regularly featured food writer and recipe contributor for Maui Family Magazine.
Chef Maja graciously embraces alternative diet requests, especially plant based/vegan and gluten free. When she isn't cooking professionally, Maja enjoys Maui's splendor and loves to surf and travel with her 'ohana.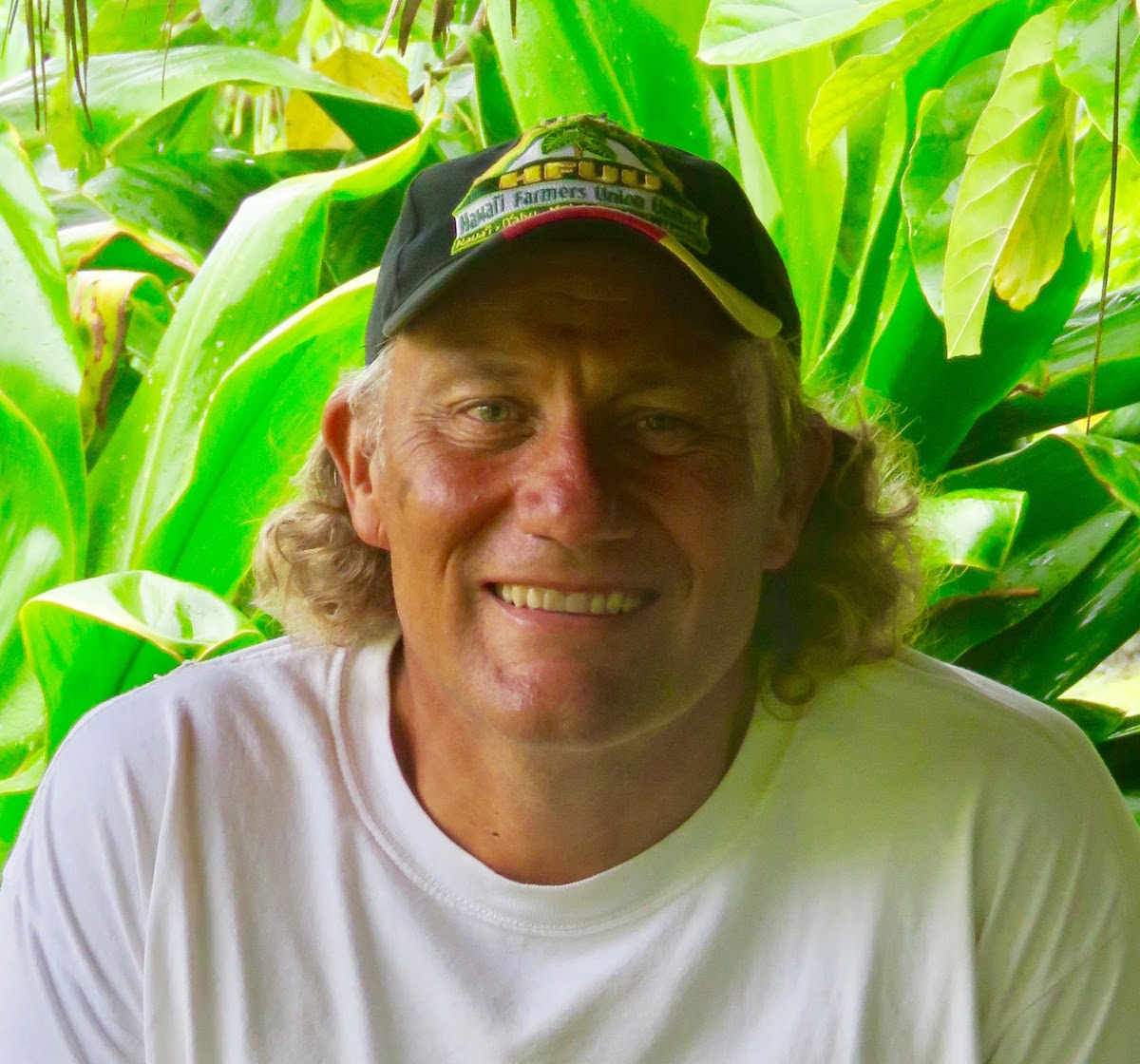 Chef John Cadman
Pono Pies
Read John's bio
Chef John Cadman is passionate about canoe plants, especially ʻulu (breadfruit) a main ingredient in his most locally-sourced Pono Pies, and its potential as a healthy and local food source for people throughout Polynesia. John is famous to many of our students from his days working as cafeteria manager in Haiku Elementary, King Kekaulike High School and Kamehameha Schools Maui.
Now as owner and operator of Pono Pies, John creates delicious sugar, gluten, dairy and GMO-free raw desserts out of as many locally sourced ingredients as possible. His pies are not only delicious but also represent his contribution to eating in a more pono (righteous) way that is both healthy and sustainable.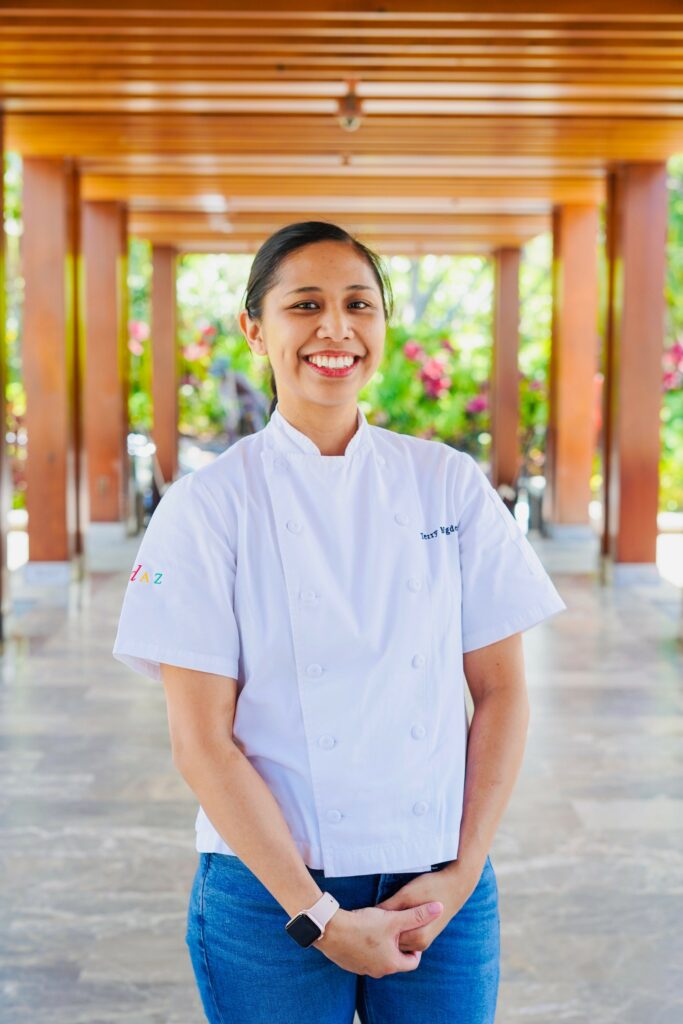 Chef Terry Manegdeg
Pastry Chef, Andaz Maui at Wailea Resort
Read Terry's bio
Terry was born and raised on Maui. She went to University of Hawaiʻi Maui College when it was still a community college and took up culinary. At first, she wanted to delve into savory but found her passion for pastry. She was part of the opening team for Amasia and stayed till the closing of the restaurant. For her next venture, she worked for Sugar Beach Bakeshop. She then moved to the pastry shop of the Grand Wailea for the next 10 years. Currently she is the pastry chef of the Andaz Maui At Wailea Resort.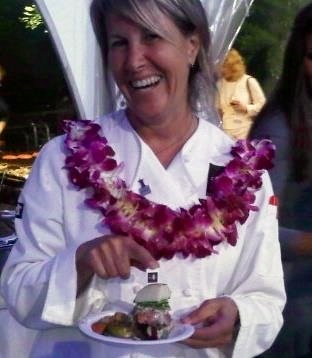 Chef Carol Wallack
Huliau Food & Film Festival Chef Coordinator
Read Carol's bio
Carol, born and bred in Los Angeles, made the move to Chicago to spread her culinary wings in 1995. She arrived to find a culinary pulse that rivaled New York as the best food city in the country.
Carol worked with her sister to open and operate, a 'great neighborhood haunt', Deleece Restaurant for 10 years before opening her own. She opened Sola 
Restaurant in 2006, using Hawaiian flavors and traditions with midwestern sensibility, expressing her love of the Hawaiian islands.
She embraced the farm to table movement in Chicago and involved herself with the Green City Market bringing the bounty of the midwest to the city for the top chefs to use in their restaurants.
Carol and Sola received many awards and accolades. Sola was chosen one of Chicago's best new restaurants 2007. She was chosen as one of Chicago's best chefs 2009, named one of Chicago's Culinary queens, national restaurant association / Food Arts chef BBQ winner 2008, 2009 and winner at South Beach Food and wine Festival-Rachael Ray's burger bash, 2009, the Best of the Best at South Beach Food and Wine Festival, 2011, and 3 consecutive years being invited to cook at the James Beard Foundation.
Now retired, she devotes her time to creating ice cream flavors (a passion she discovered at Sola), making cookies, an occasional catering job, entertaining at home, enjoying beach life or skiing in the winter and raising her pup, Edie.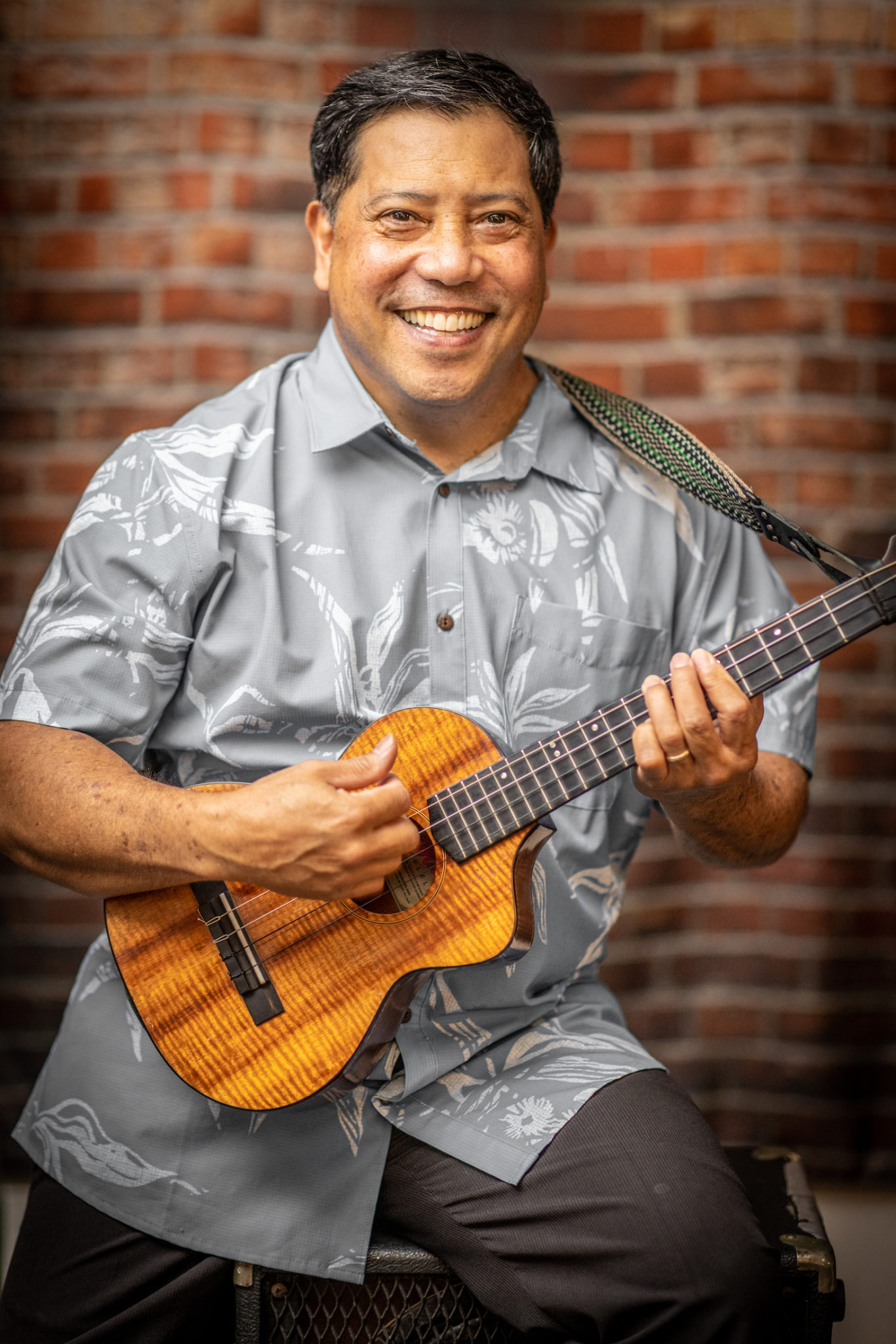 Live music by Arlie-Avery Asiu
Arlie-Avery Asiu grew up on Maui and was first introduced to the 'ukulele at the age of nine. He quickly took to the instrument and began composing music in that same year. By age 11, he added acoustic and electric guitars to his repertoire and has never stopped playing music since. Arlie's style is best known for incorporating a variety of music genres, including jazz, rock, classical, and blues. His music blends 'ukulele with cello, bass, saxophone, various percussion instruments and—in true Hawai'i style—a rubbah slippah. Arlie's enthusiasm shines through in his refreshingly upbeat music. He prefers skillful finger picking over strumming and loves to experiment with unusual tunings. He doesn't play it safe—he's always stretching himself artistically.
To date, Arlie has recorded and released four all-original instrumental 'ukulele albums. Three of the albums have earned Nā Hōkū Hanohano Award nominations in 2017, 2018 and 2022.
These days, Arlie-Avery can be found in the studio recording his next album, which will feature his love of other stringed instruments, including the electric and acoustic guitar. He enjoys performing for a variety of events around the island of Maui and teaching 'ukulele lessons to people of all ages around the globe.
Photo by Bryan Berkowitz