Huliau Environmental Filmmaking Club
Now in its 11th school year, our filmmaking club is our longest-running program. The program teaches students about filmmaking and the environment, and then assists them in making short films ranging from documentaries to music videos.
Serving youth from all Maui schools
In our first 10 years we have served youth ages 12-18 from 20 different schools on Maui and Molokaʻi!  Your donations help keep our programs affordable for all students.
Over 100 films on YouTube!
Our YouTube channel now has over 100 student films with over 60,000 views!  They empower the voices of Maui's youth to educate our community and visitors about how they can help protect our island's environment.
Award winning films!
The 70 short environmental films produced by our filmmaking program have been selected 160 times in 26 film festivals around the world!  These films include documentaries, claymation films and even music videos.
Our spring 2021 program is now full. However, you can still apply below to be added to the waiting list.
Spring 2021 Program
Due to COVID-19, we will be altering the format of our Huliau Environmental Filmmaking Club program during the 2020-21 school year. The program will be a hybrid of virtual meetings and in-person filming, and will focus on helping students create virtual field trips with partner organizations.
We have chosen this format to allow students to visit these special places while filming outdoors and maintaining social distance. The virtual field trip films will be added to our Google Classroom along with student activities for teachers and students to use for distance learning. By participating, our filmmaking students can create films for other students and  help educate them about the ecological and cultural significance of these places. Students will also learn filmmaking skills both on their phone and with our filmmaking equipment.
Spring 2021 Schedule Details:
There will be three mandatory virtual classes for all students on January 12th, 14th and 19th from 4-5:30pm. In these classes, we will give an overview of the program and student choices for virtual field trip topics. We will also teach basic framing, composition and filmmaking skills. During the first week, students will be given a short home assignment where they practice filming using a phone. In the final virtual class, students will form teams of 2-3 students and chose a virtual field trip site to work with. Once teams are formed, each team will then set their own custom schedule for filming and editing.
For questions see our program FAQ below or contact us at info@mauihuliaufoundation.org or (808)757-2100.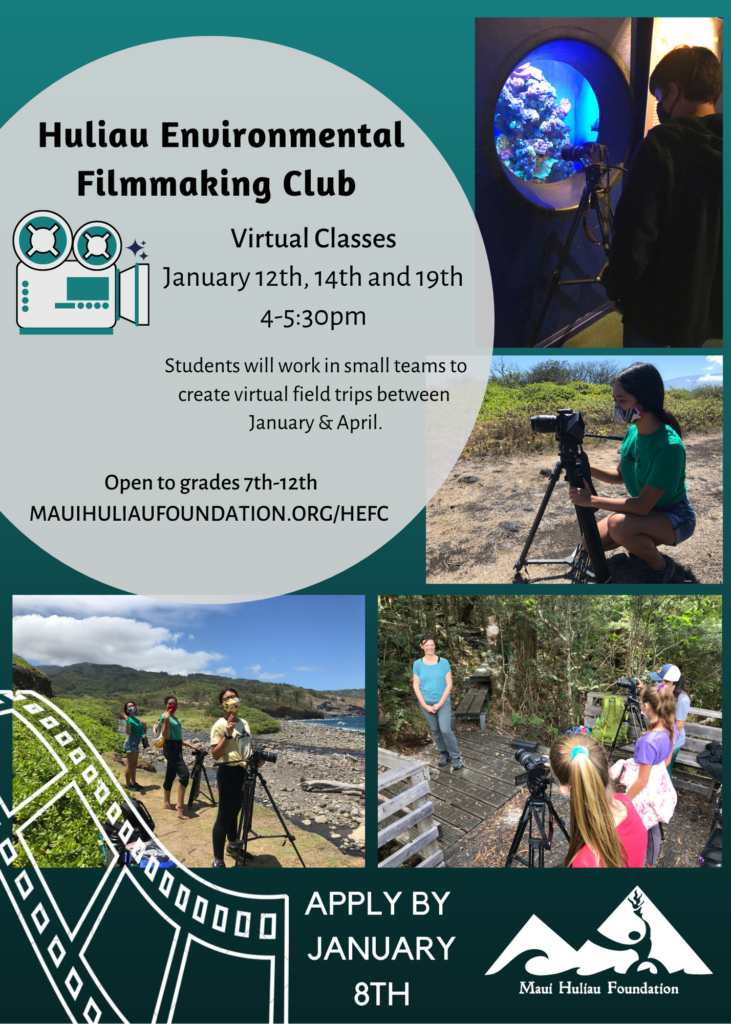 Waiheʻe Virtual Huakaʻi 
This is a virtual huakaʻi or field trip to Waiheʻe Coastal Dunes and Wetland Refuge on Maui created by three students in our Fall 2020 Huliau Environmental Filmmaking Club in partnership with the Hawaiian Islands Land Trust.
You can watch the other virtual huakaʻi created during fall semester on our Youtube playlist.
Tentative list of spring film topics
This is a tentative list of partners who will work with students on virtual huakaʻi films during spring semester:
Mauna Kahālāwai Watershed Partnership
Mālama Kaʻehu
Kanu Ka ʻIke
Community-based marine convervation groups
What will the virtual field trips be used for?
Students in our filmmaking program will work with program partners to produce virtual field trips for our Maui Aloha ʻĀina Virtual Classroom. Learn learn more about our virtual classrooms, visit our virtual classroom page.
Program FAQs
When and where does the program meet?
There will be three mandatory virtual classes for all students on January 12th, 14th and 19th from 4-5:30pm. Students will need a computer or phone with internet connection to participate.
Once teams are formed, each team will then set their own custom schedule for the rest of the semester (January-April) which will include 1-2 additional virtual planning sessions, 1-2 in-person filmmaking sessions and 2-3 editing sessions. These sessions will take place at various outdoor locations depending on the field trip topic. Sessions may take place during school hours (if students are not in school), after school or on weekdays, depending on student availability.
How much is the program fee and do I need my own filmmaking equipment?
We are waiving all program fees for our 2020-21 program, so participation is free. We will provide DSLR cameras and audio equipment for filming. We will also loan computers for editing. For the virtual classes in January, you will just need a phone or computer with internet access. If you do not have internet access or a device, please contact us in advance to see if we can help.
Who will my teammates be?
Students will be put in groups of 2-3 students based on their schedule, which topics they are interested in, and their age. In most cases, you can join with a friend or sibling and be in their group. Our students typically come from a mix of public and private schools throughout the island.
What are the COVID-19 safety procedures?
Due to COVID-19, most meetings for this program will be virtual to minimize contact between students and staff. However, participation in the program will also require 1-2 in person meetings for filming the virtual field trip. In nearly all cases, filming will take place outdoors and social distance will be maintained. Staff and students will also be required to wear masks while filming. Additional hand-washing and sanitizing procedures will be followed. We encourage parents to contact us with any questions.
What will a virtual field trip look like?
In our virtual classes, we will go over the various options for your virtual field trip film. There will be various locations and partner organizations to choose from. Students can also chose to "host" their field trip by being in front of the camera and giving a tour of the site. Students could also chose to interview staff that work there or find another creative way to share what they learn from the partner organization. Virtual field trips may also include a live demonstration led by the student or the partner organization. See the video above to see an example.
Where will the films be shown?
The films will be uploaded to our Google Classroom along with related actvities from the partner organization. These will then be used by teachers and students. Some of the films will be also shown at our annual Huliau Youth Environmental Film Festival at ʻĪao Theater in Wailuku in May 2021 (or alternate outdoor location) and may also be entered in film festivals.