Huliau Environmental Filmmaking Club
Now in its 12th year, our filmmaking club is our longest-running program. The program assists students in making short environmental films ranging from documentaries to music videos. These films share the important work being done by community groups in Maui Nui to protect the ʻāina and empower youth voices on environmental issues. In the 2022-23 school year we will be offering filmmaking classes to individual students in grades 7-12 and also providing assistance to teachers who want to engage their students in creating films during school hours.
Serving youth from all Maui schools
We have served youth ages 12-18 from over 20 different schools on Maui and Molokaʻi!  Your donations help keep our programs affordable for all students.
Over 100 films on YouTube!
Our YouTube channel now has over 100 student films with over 125,000 views!  They empower the voices of Maui's youth to educate our community and visitors about how they can help protect our island's environment.
Award winning films!
The 100+ short environmental films produced by our filmmaking program have been selected over 165 times in 26 film festivals around the world!  These films include documentaries, claymation films and even music videos.
Update: Our spring break program is currently full with a waitlist and not accepting more applciations.
Please read the schedule details to the left before applying. Students must be able to participate in all four days to apply.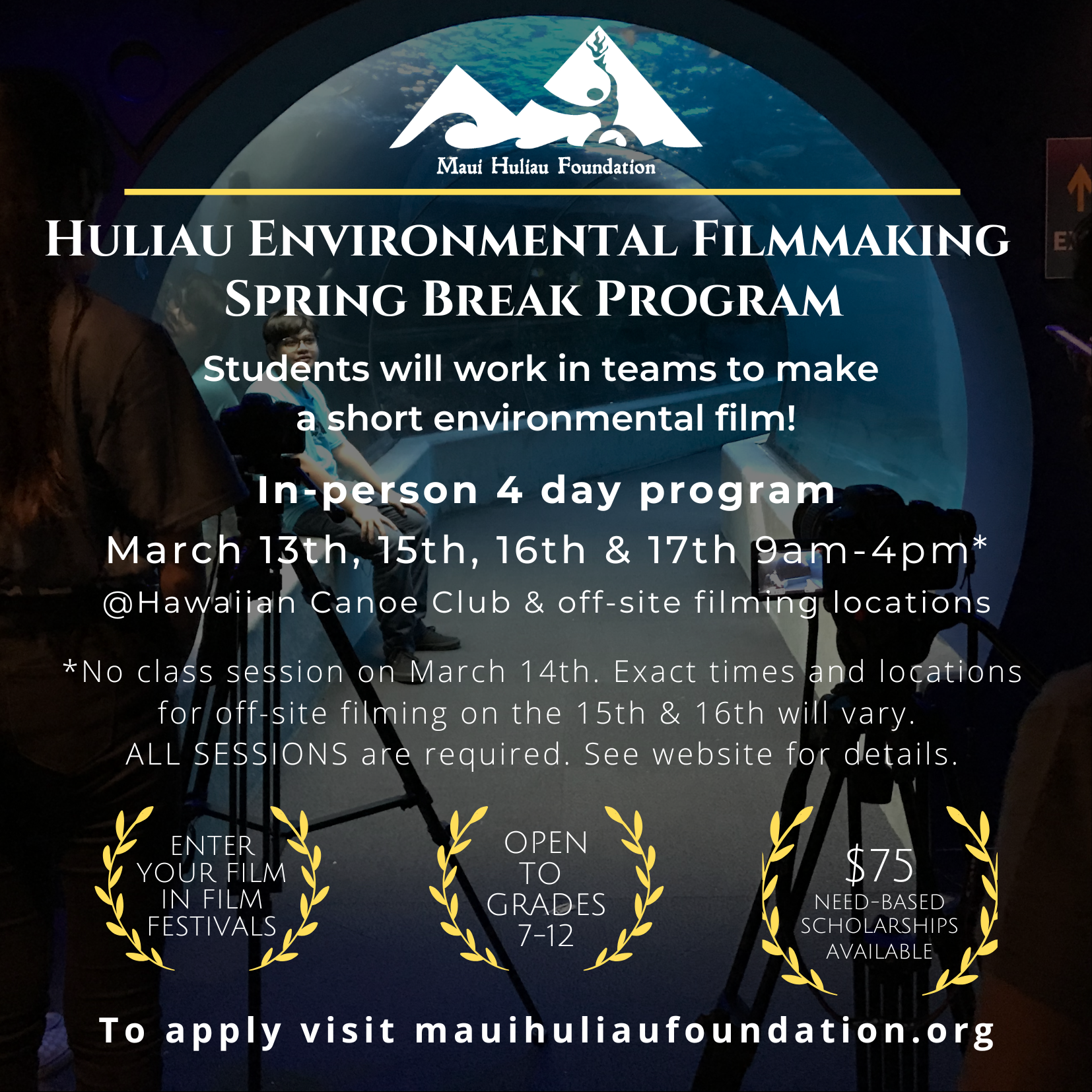 2023 Spring Break Program
For the first time in years, we have decided to offer a condensed filmmaking program for grades 7-12 during spring break! Students will work together (grouped by age) to create a short environmental film over the course of four days. Due to the shortened program timeline, these films will be shorter than those in our year-long program and on a set topic to be chosen on the first day from options presented by our staff. Our staff will provide equipment, as well as assistance in planning, filming, and editing. No prior experience is needed. The films will be shown at our student film festival in May, on YouTube, and entered in film festival throughout the country. The $75 program fee includes snacks, equipment, and transportation. Need-based scholarships are available.
About the program schedule:
In order to participate, students must be able to attend all four days of the program (no exceptions). The first day on March 13th from 9am-4pm will meet at Hawaiian Canoe Club in Kahului and will focus on filmmaking practice and pre-production (film planning). On March 14th, there will be no classes and the details of the off-site filming day will be sent to parents and students. For the off-site filming days on March 15th and 16th, sites will vary based on the planning done by students, but transportation will be provided by our staff from Hawaiian Canoe Club. While those dates will follow a similar schedule, we may meet earlier (as early as 8am) depending on the sites selected by students. The final day on March 17th will focus on editing at Hawaiian Canoe Club from 9am-4pm. Students will be assigned a 2.5 hour editing session during this time and the rest of the day will focus on other hands-on filmmaking practive and evironmental education activities. This is the only day where students may be permitted to arrive late or leave early if their editing session is complete. Please feel free to reach out with any questions.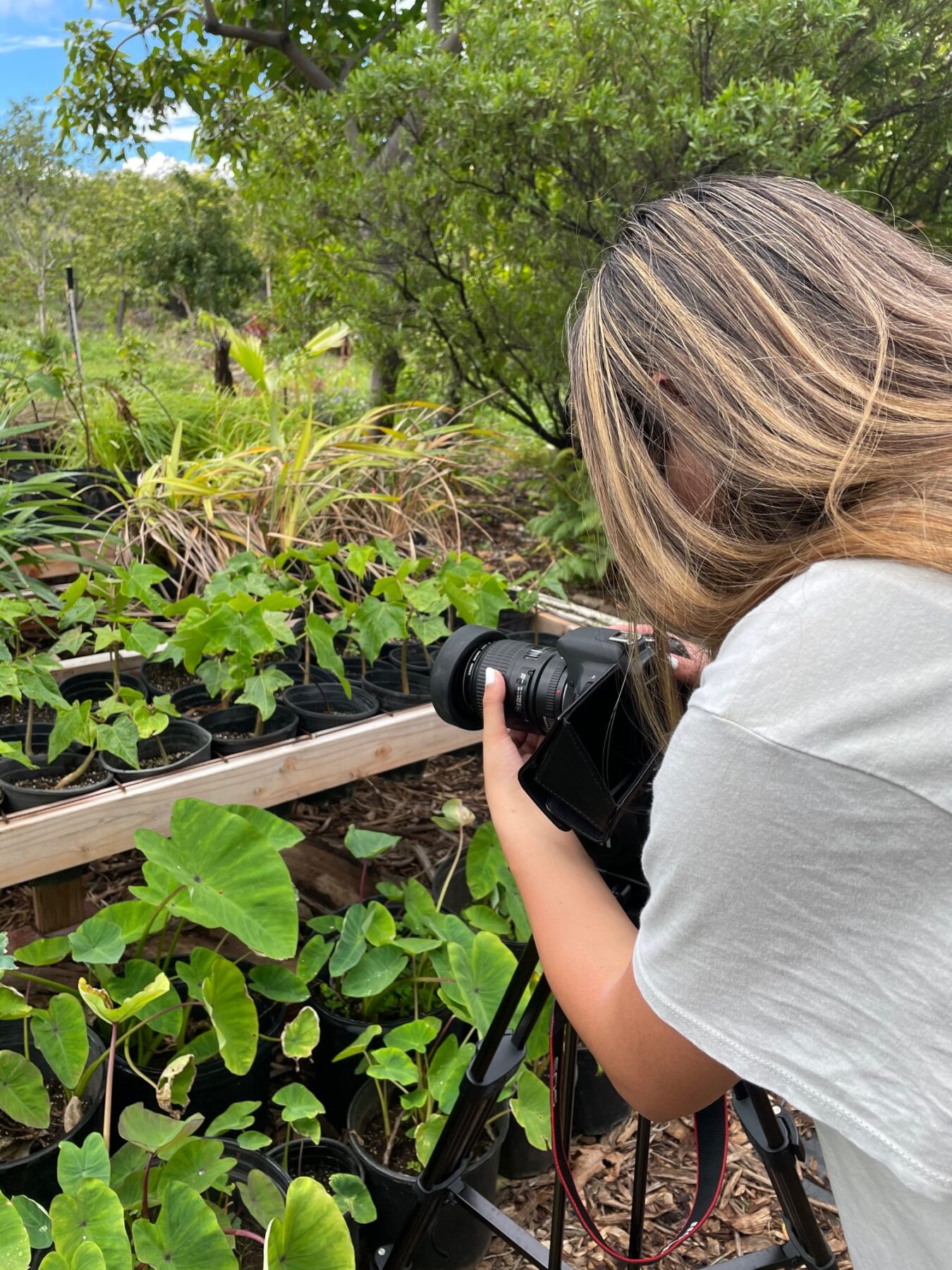 About our 2022-23 program
During the school year, we offer introductory filmmaking classes allowing students to work in small teams on their film on a flexible schedule throughout the school year. Students will create a short film on any environmental or ʻāina-based topic using any film style from documentaries to stop-motion animations and music videos. Our staff will provide equipment, as well as assistance in planning, filming, and editing.
In addition to these required classes, each film team will create a custom schedule to plan, film, and edit their film. How much time you will need depends on the film, but this usually involves at least four 1.5 hour planning sessions on zoom, at least two filming days, and at least two 1.5 hours editing sessions. Teams should be able to finish their film during the Spring semester after-school, on weekends, and/or during school breaks.
We will not be offering an after-school filmmaking program during the spring semester this year as we will be focusing on in-school projects. However, we encourage any individuals or small groups of high school students with environmental film ideas to reach out if they would like support with their film projects.  Students must be in grades 9-12 in Maui County to request our support in creating a short film. To qualify your film must have an environmental or ʻāina-based focus or message. After reviewing your request, we will contact you with further information. Use the link below to submit your request.
In-School Filmmaking Support for Teachers
Teachers can use the form below to request support for film projects with their students which have an environmental or ʻāina-based focus. Examples can include documenting on-campus sustainability projects, exploring the ahupuaʻa where your school is located, student perspectives on an environmental topics and more. Our staff would provide equipment and a combination of both virtual and in-school support for filmmaking projects for grades 7-12 in Maui County including planning, filming, and editing.