Huliau Environmental Filmmaking Club
Now in its 12th year, our filmmaking club is our longest-running program. The program assists students in making short environmental films ranging from documentaries to music videos. These films share the important work being done by community groups in Maui Nui to protect the ʻāina and empower youth voices on environmental issues. In the 2022-23 school year we will be offering filmmaking classes to individual students in grades 7-12 and also providing assistance to teachers who want to engage their students in creating films during school hours.
Serving youth from all Maui schools
We have served youth ages 12-18 from over 20 different schools on Maui and Molokaʻi!  Your donations help keep our programs affordable for all students.
Over 100 films on YouTube!
Our YouTube channel now has over 100 student films with over 125,000 views!  They empower the voices of Maui's youth to educate our community and visitors about how they can help protect our island's environment.
Award winning films!
The 100+ short environmental films produced by our filmmaking program have been selected over 165 times in 26 film festivals around the world!  These films include documentaries, claymation films and even music videos.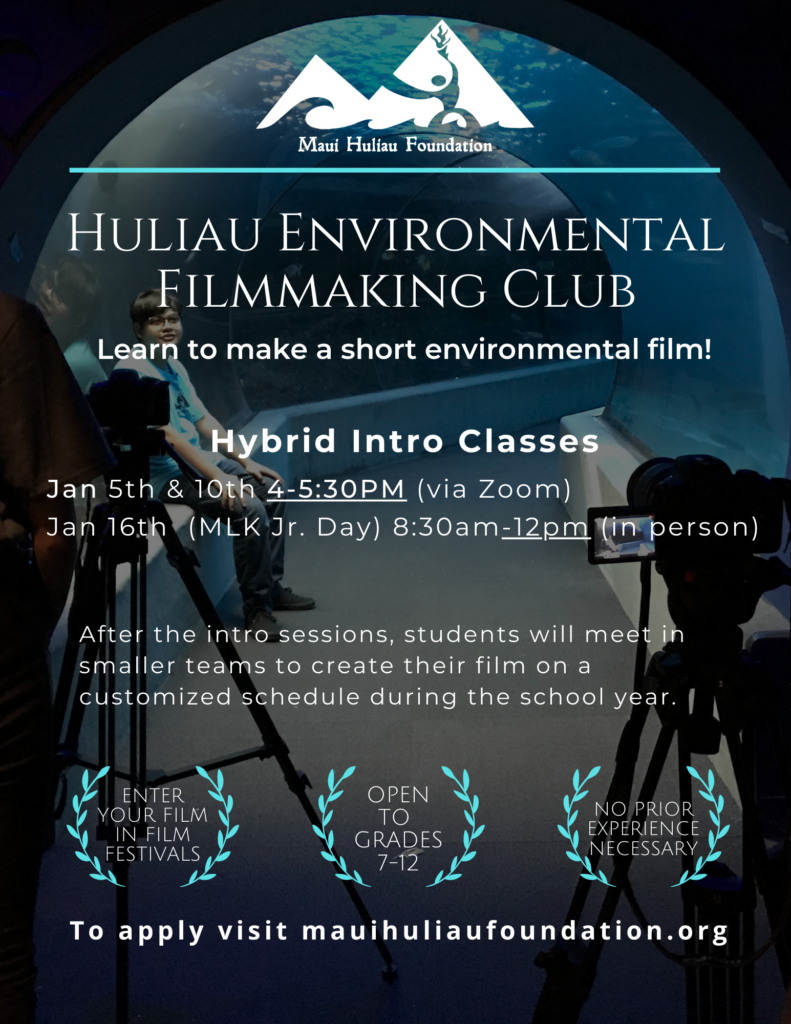 About our 2022-23 program
During the 2022-23 school year, we will be offering introductory filmmaking classes at least once per semester and then allowing students to work in small teams on their film on a flexible schedule throughout the school year. Students will create a short film on any environmental or ʻāina-based topic using any film style from documentaries to stop motion animations and music videos. Our staff will provide equipment, as well as assistance in planning, filming and editing. The program is open to grades 7-12. Students will be grouped by age group, interest and availability to work on their films.
The mandatory introductory classes for Spring are January 5th and 10th from 4-5:30pm on Zoom, and then an in-person filmmaking practice session from 8:30-12pm on January 16th (MLK Jr. Day).
In addition to these required classes, each film team will create a custom schedule to plan, film and edit their film. How much time you will need depends on the film, but this usually involves at least four 1.5 hour planning sessions on zoom, at least two filming days and at least two 1.5 hours editing sessions. Teams should be able to finish their film during the Spring semester after-school, on weekends and/or during school breaks.
In-School Filmmaking Support for Teachers
Teachers can use the form below to request support for film projects with their students which have an environmental or ʻāina-based focus. Examples can include documenting on-campus sustainability projects, exploring the ahupuaʻa where your school is located, student perspectives on an environmental topics and more. Our staff would provide equipment and a combination of both virtual and in-school support for filmmaking projects for grades 7-12 in Maui County including planning, filming, and editing.