Latest News and Upcoming Events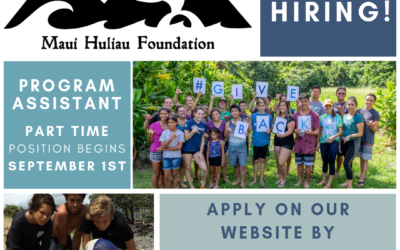 Program Assistant Position Part-time, 15-20 hours average/week, minimum $14/hour, starting September 1st, 2019We're Hiring! This is a part-time position with the the potential to grow in to a full time position in 2020. Medical benefits are available to employees who...
Mission
Our mission is to promote environmental literacy and leadership among Maui's youth through community-based educational experiences.
Vision
To create and maintain a sustainable Maui by inspiring active, educated, and innovative stewardship.