Huliau Alumni Council Scholarship
We are pleased to announce the launch of the second year of our scholarship program to support and encourage undergraduate students of Maui County! Last year, we awarded our first scholarships as part of our new scholarship fund managed by our Huliau Alumni Council and Board of Directors. This year's scholarship for the 2023–2024 academic year is open to high school seniors graduating in the 2022-2023 academic year, including those who have not participated in any Huliau programs.
About the Scholarship
Maui Huliau Foundation's mission is to promote environmental literacy and leadership among Maui youth through unique hands-on programs which seek to educate and empower youth to become future stewards of our natural environment.
Scholarship Objective
The principal objective of this scholarship program is to support and encourage current high school seniors who are passionate about sustainability and protecting the ʻāina, in continuing their studies through higher education.
Scholarship Award Amount 
The total distribution for the 2023- 2024 academic year is $5,000, awarded to two scholarship participants in the form of $2,500 per student.
Use of Scholarship Funds
Scholarship awards may be applied toward tuition, housing, or other costs directly related to undergraduate study.
Basis of Award
The Scholarship Committee, comprised of members of the Huliau Alumni Council and the Maui Huliau Board of Directors, will make the final selection of students to receive a scholarship based on their review of the application form and essay questions. The scholarships will be awarded based on a variety of criteria including: academic qualifications, financial need, educational plans and career goals, and interest in community and/or environmental service, as demonstrated in answers to the application questions.
Financial need may be documented through the (optional) submission of FAFSA documents. This report can be obtained by completing the online application for Free Application for Federal Student Aid (FAFSA) for the 2022 – 2023 academic school year on the Federal Student Aid website.
Our 2023 deadline has passed.
All applicants will hear from us by May 1st.
How to Apply
All application responses and supporting documents must be submitted using the Google Form below. The Committee may request additional information to complete its evaluation. The selection committee may choose to schedule Zoom interviews with the top candidates to determine scholarship recipients. The application package must be submitted on or before midnight on March 31st, 2023. Applicants will hear back from our selection committee by the end of April. Student applicants may submit questions via email to info@mauihuliaufoundation.org.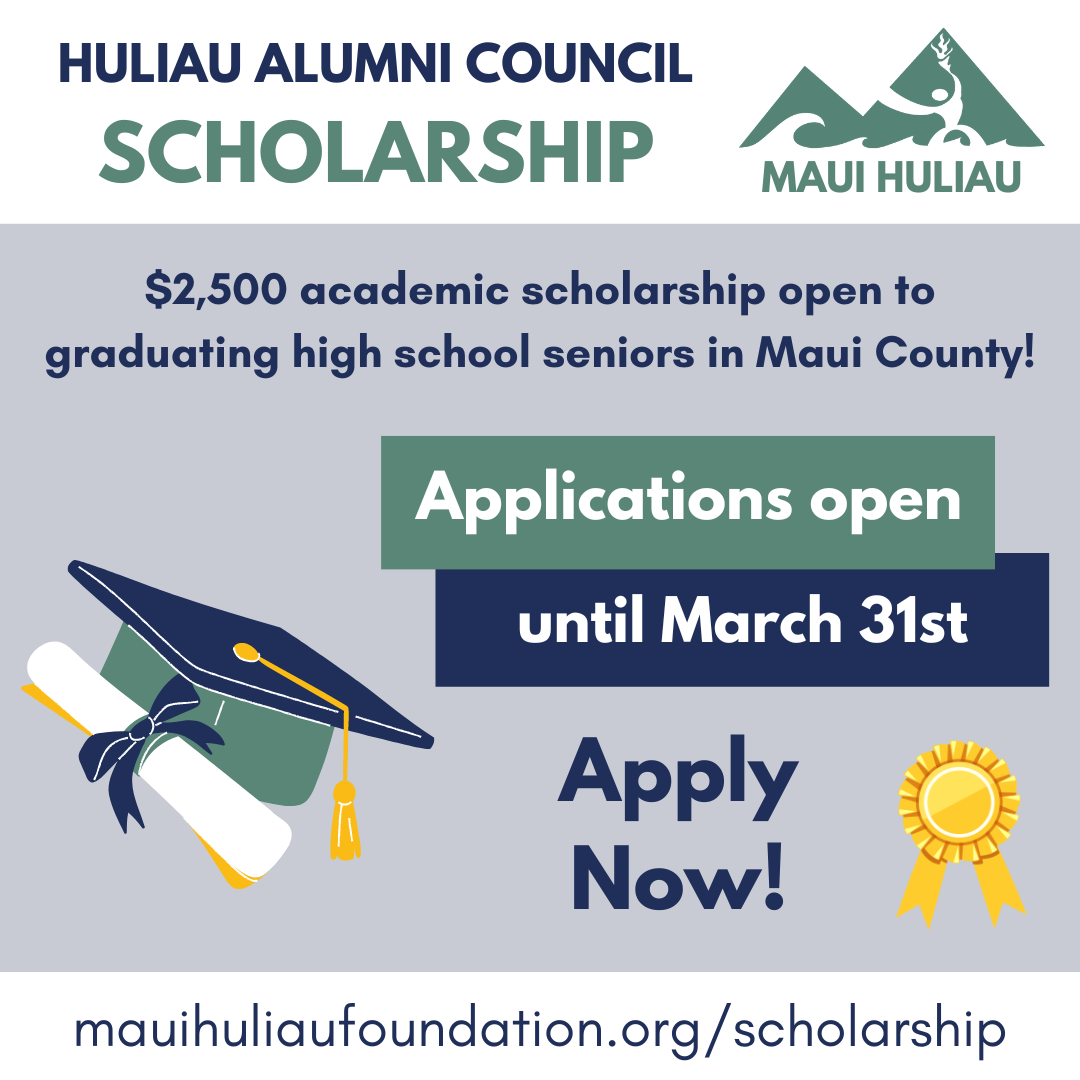 Congratulations to our first scholarship recipients!
Below are profiles of the winners of our first scholarship competition in the 2021-22 school year who were selected out of 19 applicants.
Kyrie Sisouvong, Baldwin High School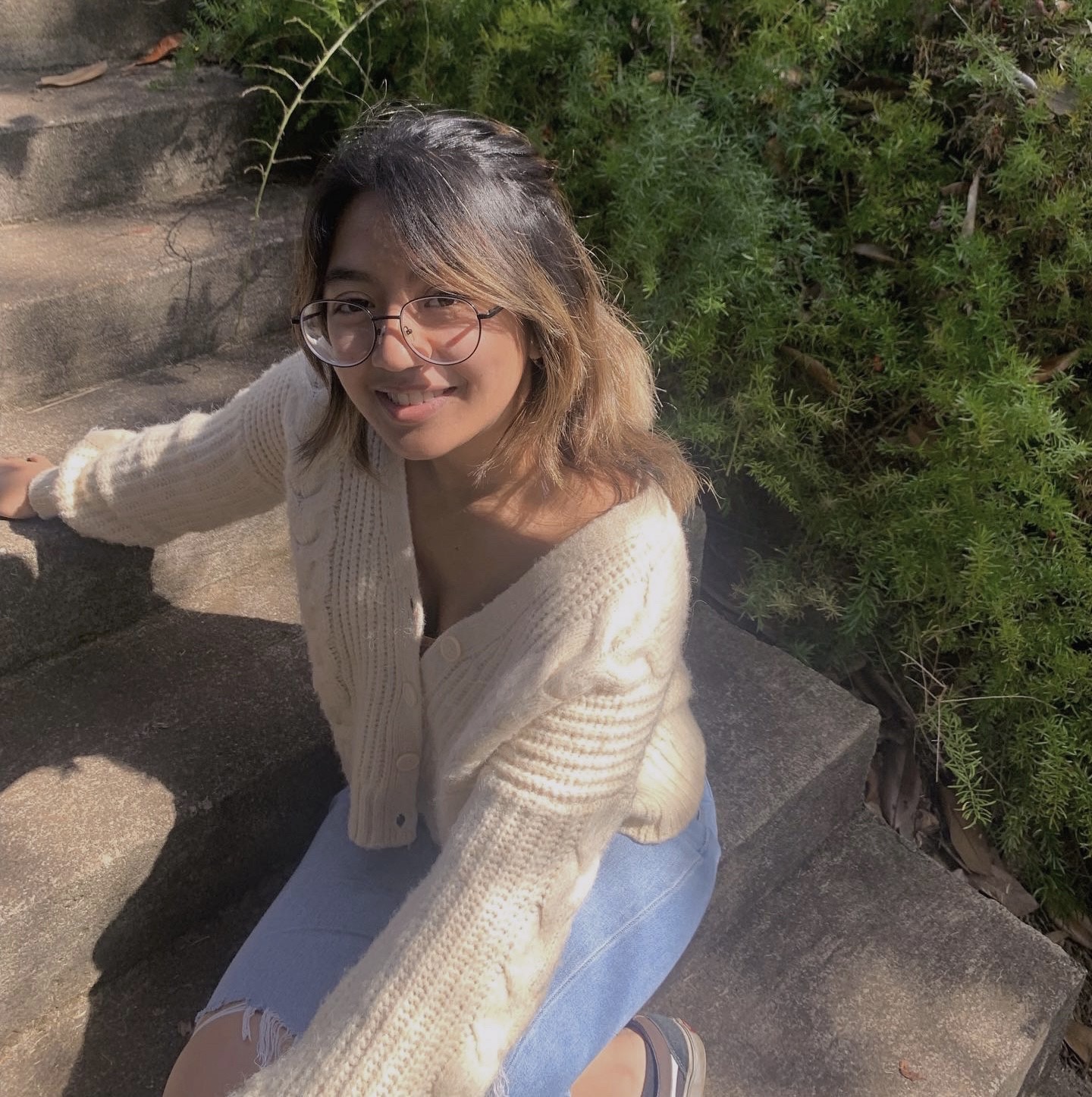 One of our two Huliau Alumni Council Scholarship first year recipients is Kyrie Sisouvong, a senior at Baldwin High School who plans to attend Seattle University and major in Environmental Science, with an emphasis in water conservation. Kyrie's extra-curricular high school experiences include marching band, Key Club, Big Brothers/Big Sisters, UHMCʻs Upward Bound and Environmental Science Summer Bridge programs, Hawaiʻi Youth Climate Coalition and being part of our Huliau Leadership Council.
Kyrie has been involved with youth-led campaigns tackling some of the biggest environmental problems facing Hawaiʻi including climate change, plastic pollution, and protecting our freshwater resources. In her application, Kyrie reflected on the importance of protecting wai:
"The saying "water is life" is especially significant on an island with limited resources, we need fresh water for consumption, agriculture, the recharging of our aquifers, and much more. Water is a universal staple in ALL of our communities, it's a property that connects us all–despite our differences, or where we live. Through my future and current work in Environmental Science, I hope to raise awareness of the importance of wai, and ways to most efficiently conserve and use it. I also want to bring the "Aloha spirit" to fruition through activism, community service, and raising awareness."
Congratulations, Kyrie! We wish you all of the best on your college journey!
Moani Tiare Atay, Kamehameha Schools Maui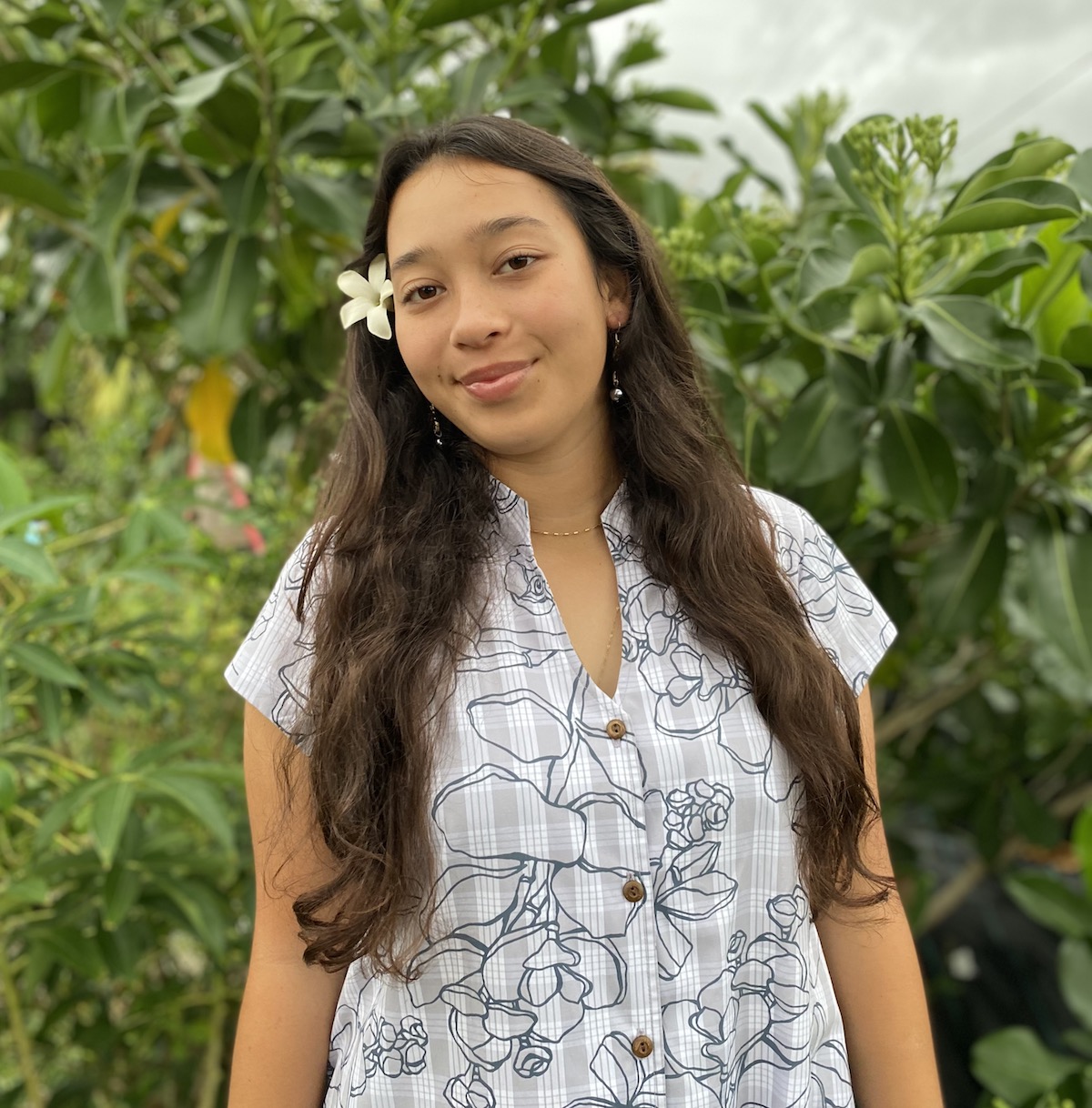 One of our two Huliau Alumni Council Scholarship first year recipients is Moani Tiare Atay, a senior at Kamehameha Schools Maui Campus who plans to study Environmental Science in college. Moani's extra-curricular high school experiences range from student government to canoe paddling, to serving as a crew member for Hui o Waʻa Kaulua.
During her 250 hours of community service being involved with Maui's transoceanic double-hulled voyaging canoe named Moʻokiha o Piʻilani, Moani shared in her application about adapting to the "waʻa perspective":
"When you are floating about at sea on a 62-foot vessel with 15 other people, you learn how to preserve your resources and work together to survive. Similarly, now more than ever, Maui County is facing huge issues with access to our natural resources and everyone is witnessing firsthand how important it is to preserve this precious supply. This experience has helped me realize my career goal of working in the environmental field in Hawaiʻi to provide a better future for the next generation using the mindset and skills I have learned from our waʻa. By pursuing an education and career in Environmental Science, I can combine my knowledge of Hawaiian culture and my love for the environment to fulfill my promise of aloha ʻāina and mālama hōnua forever and always."
Congratulations to Moani and we wish you all the best on your college journey!