Virtual Classroom Resources
These virtual classrooms were created by Maui Huliau Foundation and our program partners during the 2020-21 school year as a FREE resources for grade 8-12 Maui teachers. During the 2021-22 school year, we will continue to update these classrooms, including adding in-class versions of activities where applicable.
Below we have created two Google Classrooms to help facilitate ʻāina-based hybrid or distance learning. The first classroom was created for our Huliau Climate Literacy Project and the second Maui Aloha ʻĀina Virtual Classroom was created with program partners for students to learn about local history and conservation ecology. While both classrooms have a strong science focus, there are many activities relating to culture, history, language arts, social studies and other subjects. Teachers and students must register below to gain access to either or both classrooms. If you wish to support this project, please contribute any amount using the donate button.
For questions email info@mauihuliaufoundation.org
 Virtual Classrooms for Teachers
Teachers can join the teacher version of our Google classrooms to see an overview of available activities and get updates from our staff. You can download individual activities from our classroom to add to you own virtual classroom and our staff can make you editable copies of the Google Forms. Please see the FAQs below for answers to additional questions regarding how teachers can use these resources.
Virtual Classrooms for Students
While we will not be releasing new lessons this year, during the 2021-22 school year we will continue to monitor this classroom and provide assistance to students wanting to use any of the virtual lessons and field trip videos.
Watch the workshop video below for
an overview of the 2021-22 program!
In this 20 minute workshop, Program Director, Lily Solano presents an overview of resources available for grade 8-12 teachers as part of Maui Huliau Foundation's Huliau Climate Literacy Project. The workshop gives a brief overview the units focusing on climate change causes, impacts and solutions, including example in-class and virtual activities. The workshop also includes information on student-led projects, field trips and ways that Maui Huliau staff can assist teachers in implementing a customized program for their students.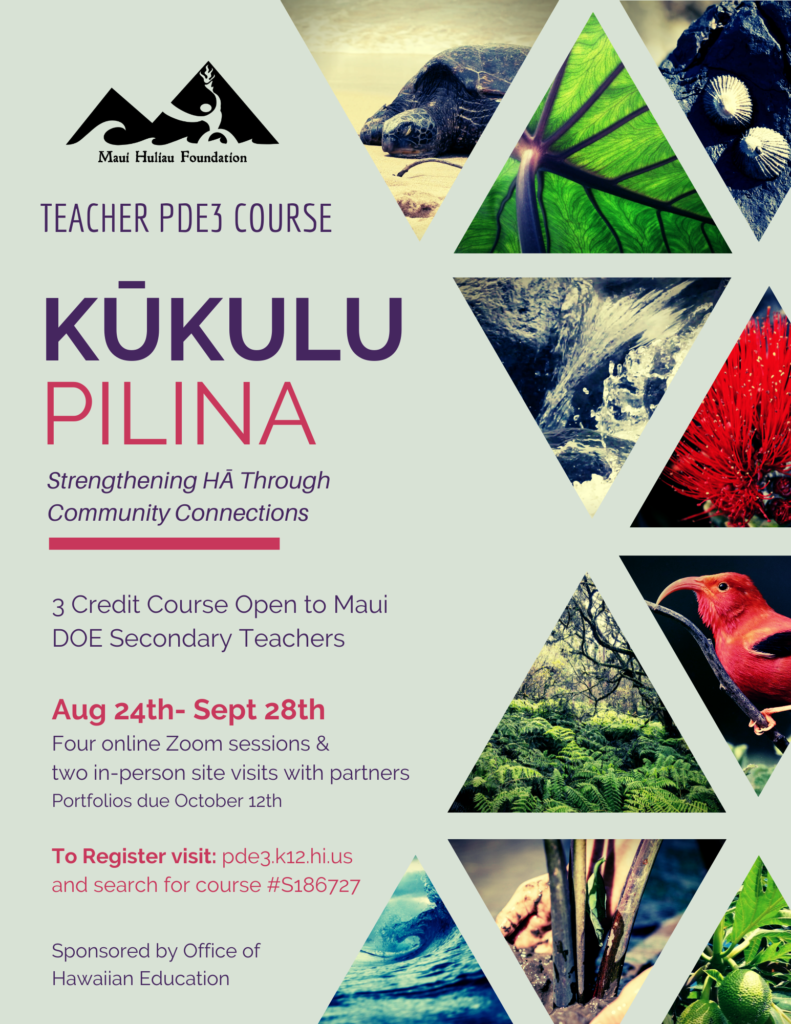 Teacher PDE3 Course
We are thrilled to announce our first ever PDE3 course open to Maui DOE secondary teachers! This course will draw on many of the resources from our virtual classroom below. 
The purpose of this course is to help Maui educators realize the potential for community partnership and ʻāina-based education to deepen their students' sense of HĀ through ʻāina aloha practices contextualized to their particular place and community.
Our staff is teaching this hybrid course along with community partners beginning August 24th. The course is sponsored by the Office of Hawaiian Education and includes 6 online and in-person sessions between August 24th and September 28th, with portfolios due on October 12th. Maui public school teachers can register by visiting the pde3 website and searching for course #S186727
 Huliau Climate Literacy Virtual Classroom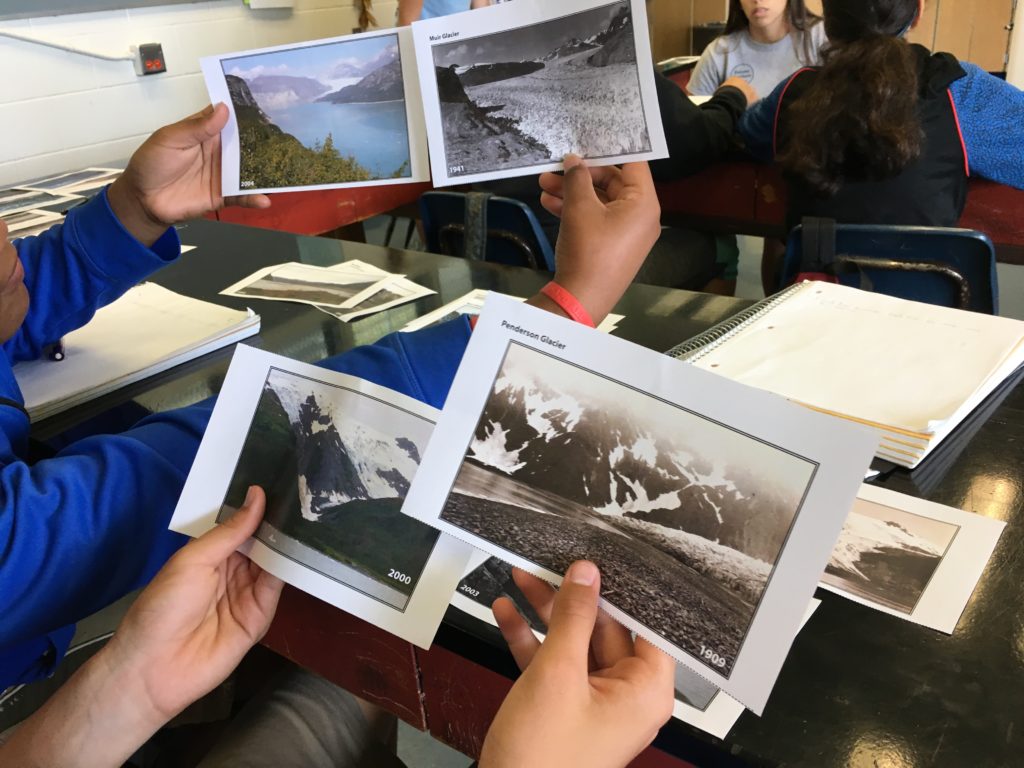 Grades 8-12
Program Description: This program focuses on the science behind climate change in alignment with the Next Generation Science Standards. Students will learn about climate change causes, impacts and solutions via videos, presentations, virtual field trips, hands-on activities and other online resources. Each unit has 1-5 activities to be completed online and an online assessment, amounting to 4-6 hours of activities. Activities include graphing CO2 in the atmosphere, analysing local coral bleaching data, and online games. Our staff is available to assist students and teachers in creating custom curriculum plans and facilitating student-led projects focused on climate change solutions. Email info@mauihuliaufoundation.org for details.
Classroom Overview
Course Introduction (1 hour)
Unit 1, Part 1: The Carbon Cycle
Unit 1, Part 2: CO2 in the Atmosphere
Unit 1, Part 3: What is Climate Change?
Re-Tree Tree Planting Activity (Originally published Fall 2020)
Unit 2, Part 1: Melting Ice & Sea Level Rise
Unit 2, Part 2a: Ocean Impacts: Coral Bleaching
Unit 2, Part 2b: Ocean Impacts: Ocean Acidification
Unit 2, Part 3: Extreme Weather
Unit 2, Part 4: Climate Change in Hawaiʻi
Unit 3 Part 1: A Global Problem
Unit 3, Part 2: Climate Science & Misinformation
Unit 3, Part 3: Finding Solutions
Unit 3, Part 4: Taking Action
Guidance for student-led projects
This classroom was created during the 2020-21 school year supported in part by a grant from The Makana Aloha Foundation.
Maui Aloha ʻĀina Virtual Classroom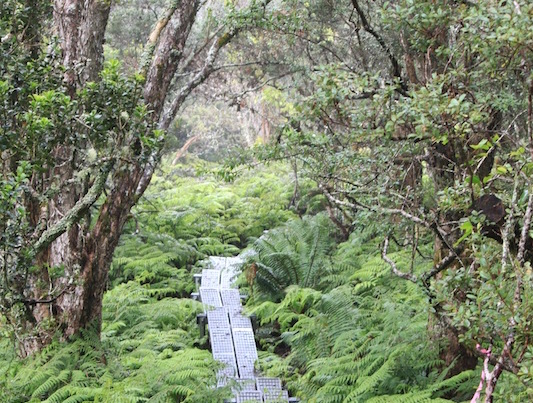 Grades 8-12
Program Description: The Maui Aloha ʻĀina Virtual Classroom was created by Maui Huliau Foundation and program partners for students to learn about local ecosystems and conservation. Activities focus primarily on science, culture and history, but also include components from other subjects. Each unit has 1-5 activities to be completed online and an online assessment, amounting to 4-6 hours of activities. Activities include water quality testing, crafts using native plants, and scavenger hunts. For some activities, students will be asked to visit a site in person and/or to pick up a supply kit. Most units also include a virtual huakaʻi (field trip) video created by our filmmaking students.
Overview of Units:
Kahoʻolawe Island Reserve Commission
Going Zero Waste (with Huliau alumni)
Waiheʻe Refuge with Hawaiian Islands Land Trust
Maui Nui Botanical Gardens
Re-Tree Tree Planting Activity
The Nature Conservancy's Waikamoi Preserve with East Maui Watershed Partnership and Maui Forest Bird Recovery Project
Nohoʻana Farm
Kōʻieʻie Fishpond and the Hawaiian Islands Humpback Whale National Marine Sanctuary
Wai: Maui's Water Resources
Coral Reefs with Maui Ocean Center
Keālia with Alakaʻina, Maui Digital Bus
Sustainable Lifestyles by Huliau Leadership Council
Watershed Partnerships
Mālama Kaʻehu
ʻIke ʻĀina: Sense of Place with Kanu Ka ʻIke
Kīpuka Olowalu
Kipahulu ʻOhana (Mālama i ke Kai programs)
Resilience Unit
Other Climate Literacy Resources for Teachers
Click the button to the right to visit our online Climate Literacy Project library for addition resoruces such as online resource collections, videos, and teacher development programs.
Resources for Younger Students
Looking for local online resources for grades K-7? Check out the Friend's of Pōmaikaʻi's Kids Create 808 page!
Other Programs
In addition to our Google Classrooms, students can also join our other youth programs, which will be offered in a hybrid format this school year. Our Filmmaking Club is open to grades 7-12 and our Leadership Council is open to grades 9-12. Click on the flyers to the right to visit those program pages for more information.