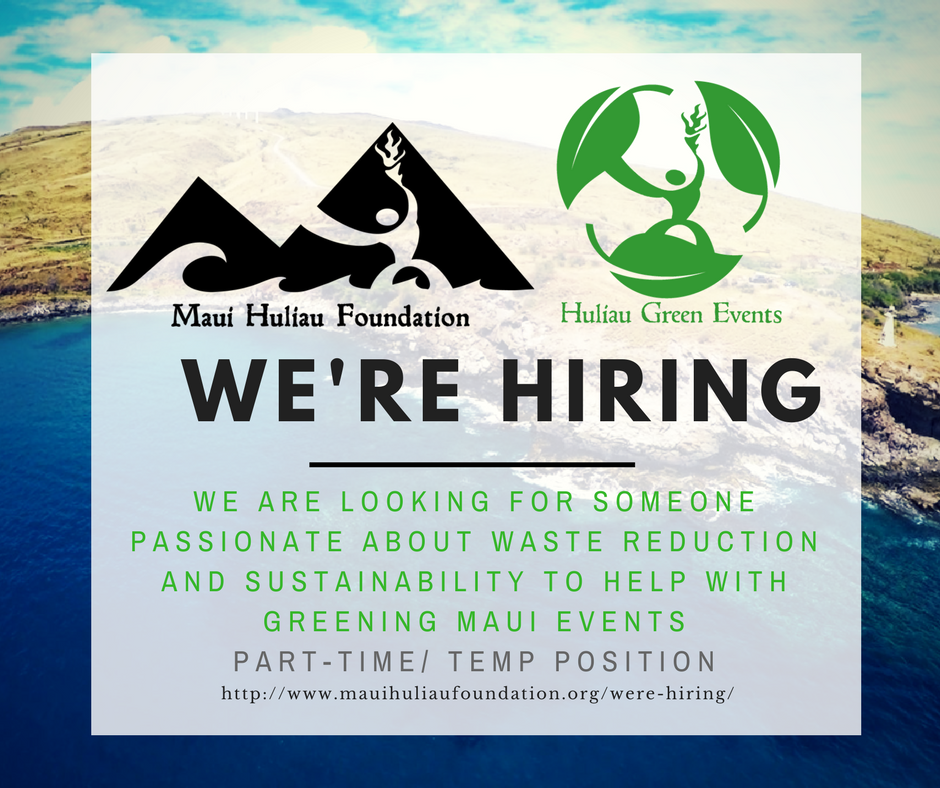 The position has been filled.
If you would like to volunteer for a shift at any of our Green Events please email ashley@mauihuliaufoundation.org
Huliau Green Events Assistant Job Description and Requirements
Application deadline is March 7th. Applicants will be contacted by March 9th.
Job Description: Our Huliau Green Events program is looking to hire a part-time team member for a 10 week position starting March 10th! We are looking for someone who is excited about helping large events reduce their waste and is eager to learn more about zero waste practices. Responsibilities include email, phone and in person meetings with our Huliau Green Events manager to prepare for each event. Responsibilities at each event may include staffing zero waste stations, overseeing volunteers, working with food vendors, station set-up and breakdown, and sorting and weighing waste. Because the position is mostly every other Saturday, this could be an ideal position for someone who already has full time employment. There is the possibility to extend beyond a 10 week position depending on the applicants schedule and performance, as well as program funding.
Pay rate: $12/hour This position does not include benefits.
Minimum qualifications: Applicants must be 18 years of age or older. You must have a valid drivers license and reliable transportation. You must have a cell phone, computer and email access. The event portion of this position requires physical labor and being comfortable dealing with trash and food waste. You therefore must be able to be on your feet for long periods of time and to lift up to 40lbs. Other experience with zero waste programs is a plus, but not required.
Hours and schedule: This is a temporary 10 week part-time position averaging 3-12 hours per week starting March 10th and ending May 12th. The position requires working 7-12 hour days on Saturdays roughly every other week (see schedule below) and a few flexible hours during the week (could be after normal work hours) to prepare for each event. Weekday hours will mostly consists of phone and email communications and meeting with our Green Events Manager. There is also the possibility to work some Sunday mornings if your schedule allows. The position start date is March 10th but could be postponed until March 19th if needed.  All candidates must be available to work all day on the following five Saturdays: March 24th, April 7th, April 21st, May 5th and May 12th. There is also a possible paid training day on March 10th. Events are at various locations in central and upcountry Maui.