Maui SustʻĀINAbility Symposium & Fair:
Going Zero Waste
DUE TO HEALTH CONCERNS RELATING TO COVID-19, THIS EVENT IS BEING POSTPONED. WE WILL POST HERE WHEN WE HAVE A NEW DATE.
May 2nd, 2020, Kamehameha Schools Maui Campus
A sustainability education event featuring an expert panel, workshops, and afternoon fair with zero waste food, activities and vendors.
9am Wehena: Opening protocol
9:15am Expert Panel
The Future of Waste Reduction in Maui County
10am – 12pm Sustainability Workshops
(Pre-register below on this page)
Focus groups: Hotel Industry, Food Service, Schools, Agriculture
11am – 3pm Sustʻāinability Fair
Food trucks, zero waste lifestyle mini-workshops, composting demos, activity booths, youth mini-workshops and art installation,, campus sustʻāinability tours, and zero waste product vendors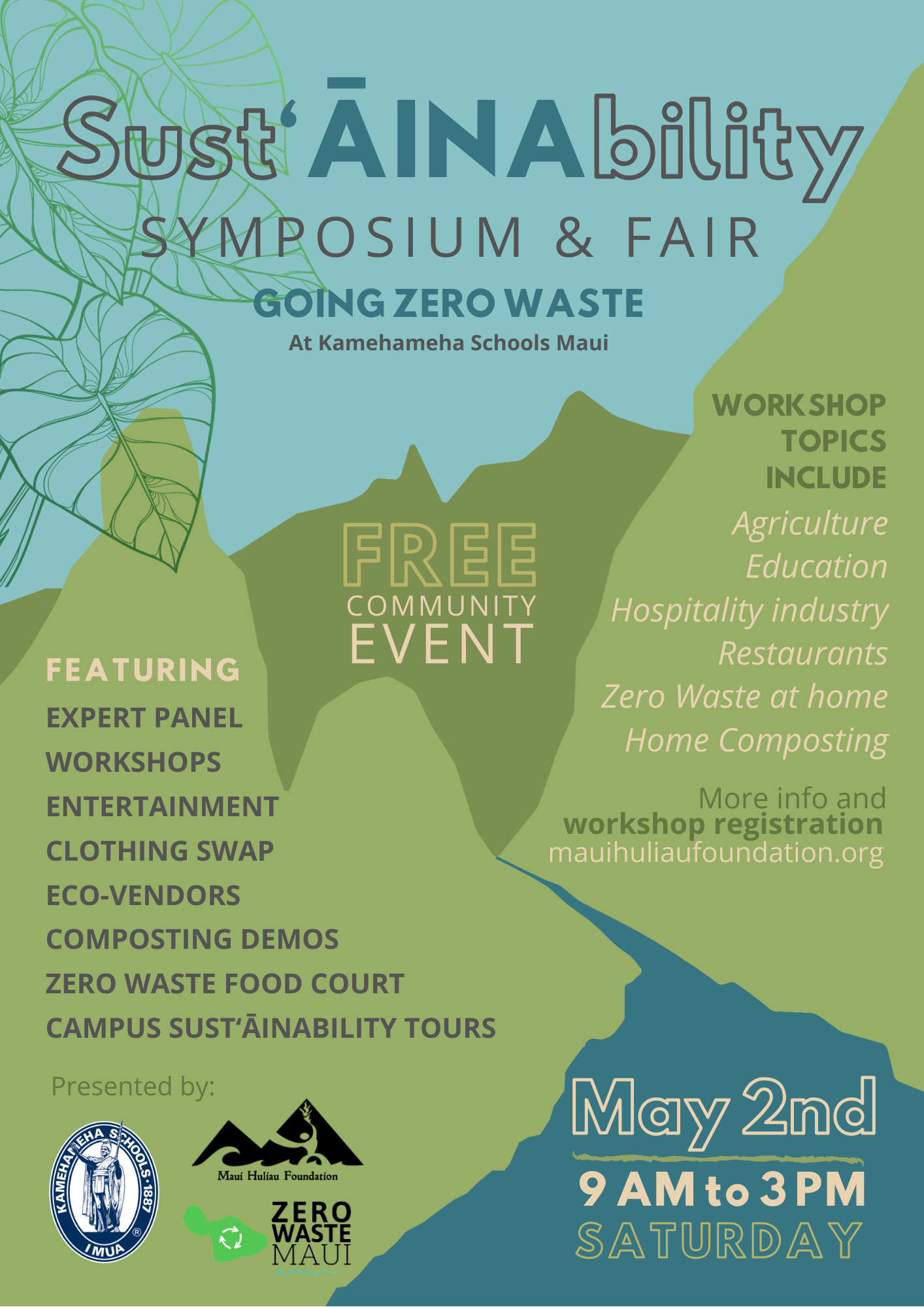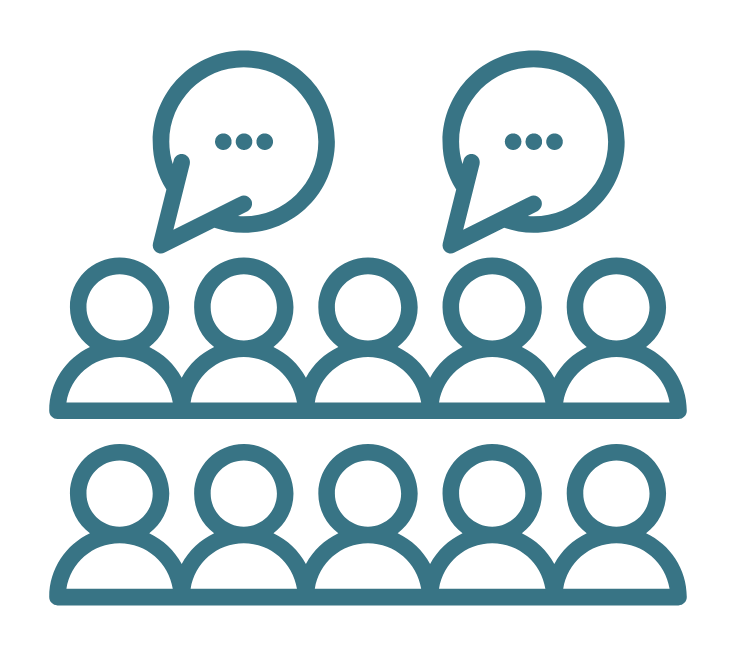 9:15am Expert Panel
The Future of Waste Reduction in Maui County
A panel of local experts discusses the many challenges and opportunities surrounding waste reduction and disposal in Maui County including recycling, commercial composting, waste to energy, plastic pollution and more. The panel will also answer questions from the audience, time permitting.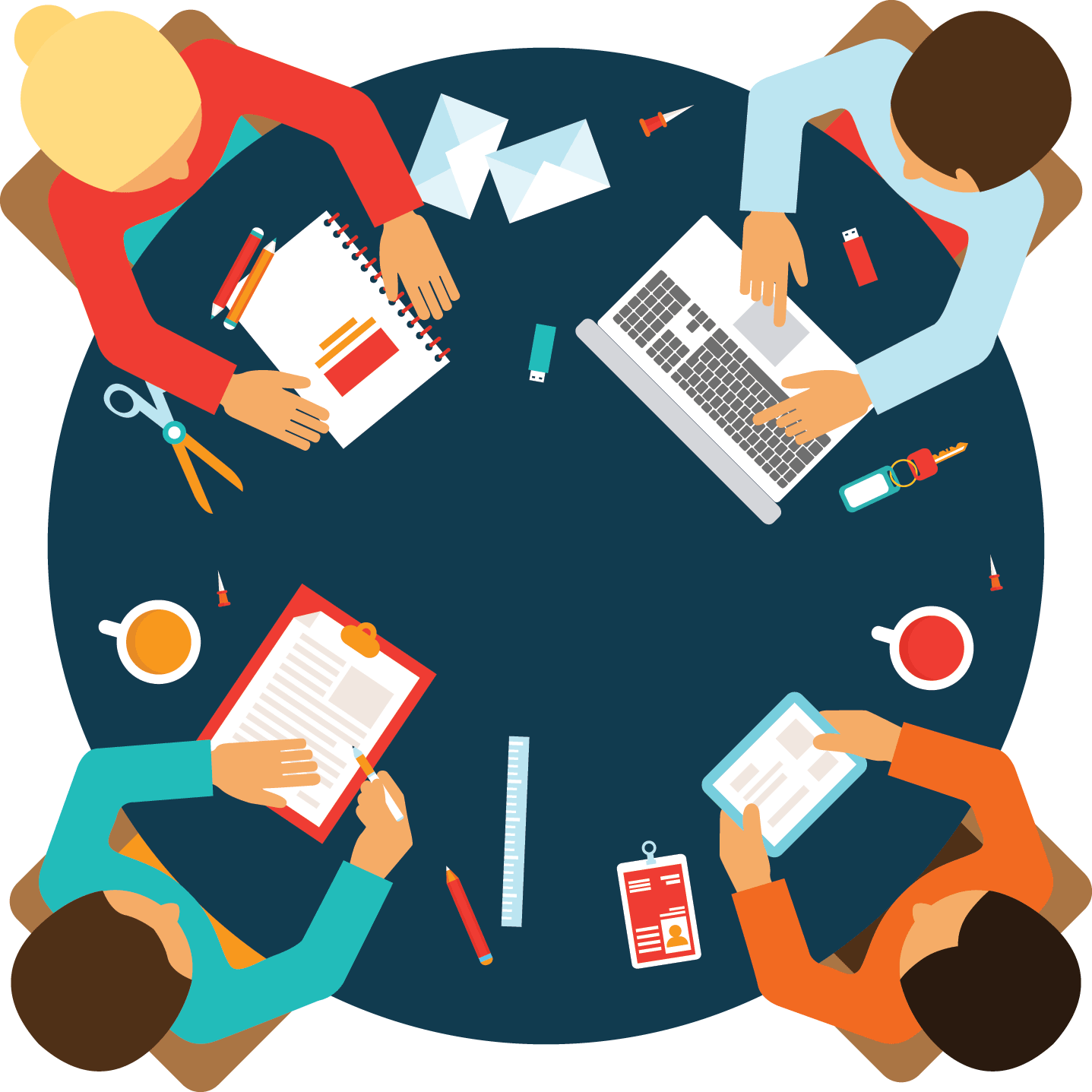 10am-12pm Sustainability Workshops
The morning workshops are focused on sharing local sustainabilty advice in four main sectors: Education, Agriculture, Hotels and Food Service. Workshops are free, however, space is limited and pre-registration is required. Each workshop is divided in two parts and you can sign up for either or both parts.
The afternoon Sustʻāinability Fair will also include shorter public workshops which do not require pre-registration including zero waste lifestyle workshops, composting demonstrations and youth workshops.
See below for mroning workshop registration and more information on the afternoon Sustʻāinability Fair.
Workshop Topics &  
Registration
Use the slider below to read more about the four industry-focused morning workshops. Workshops are located in the Kamalālāwalu Building classrooms or Dining Hall and advance registration is required.
11am-3pm Sustʻāinability Fair
The fair is open to the public and will take place outdoors on the central lawn of the high school campus after the workshops. There will be food, mini-workshops, zero waste vendors, art installations and other activities.
No registration is required for this portion of the event. Please read more details below.

Zero Waste Foodtrucks
Enjoy some ʻono food in true zero waste fashion with Moku Roots, Sea Salt Maui and Gypsy Food Truck using all reusable plates, cups and utensils! Huliau Green Events will provide zero waste stations.

Zero Waste Product Vendors
Did the morning workshops inspire you to be more sustainable in your day to day life? You can purchase resuable sporks, straws, eco-wraps and other eco-friendly products from our zero waste vendors.

Zero Waste Information Booths
Various non-profit organizations and the Maui County Department of Environmental Management will host information tables on local waste disposal and sustainability resources. Some of the morning workshop hosts will also have tables to answer questions for specific industries.

Zero Waste Lifestyle Workshops
A series of "zero waste lifestyle" mini-workshops will run throughout the afternoon focusing on reducing waste at home. There will also be an interactive "idea board" to share your own zero waste tips.

Youth Workshops & Activities
Kamehameha Sustainability Club and the Huliau Leadership Council will be planning a series of fun activities for youth ages 12-18. This includes a youth art installation, an environmental memes contest, ways to get involved in youth-led sustainability projects and more!

Clothing Swap
Avoiding buying new clothes is one important way we can reduce waste in our lives. Swap your used clothes with other event attendees in our free clothing swap.

Composting Demonstrations
Join local farmers for hands-on composting demonstrations. Workshops will cover backyard composting methods including vermi-composting, as well as farm-scale soil building techniques.

Campus Sustainability Tours
Kamehameha students and staff will lead tours highlighting sustainability efforts on campus from school garden programs to water conservation efforts.

Arts and Crafts
Keiki and adults can learn to turn an old T-shirt in to a resuable bag or make their own plastic-free toiletries at the zero waste crafts tent. The fair will also feature a student art installation inspired by cafeteria waste.
All event activities will take place on the Kamehameha Schools Maui high school campus. Click below for a directions in Google Maps.