Huakaʻi Scavenger Hunt
During the month of December 2021, the Huliau Alumni Council is hosting a scavenger hunt exploring five of the sites featured in the huakaʻi (field trip) videos created by our filmmaking students last school year. This contest is open to Maui residents of all ages. To participate watch one or more of the huakaʻi videos below, visit the site to collect your photos and clues, and submit your answers via the Google Form by January 3rd at 8pm.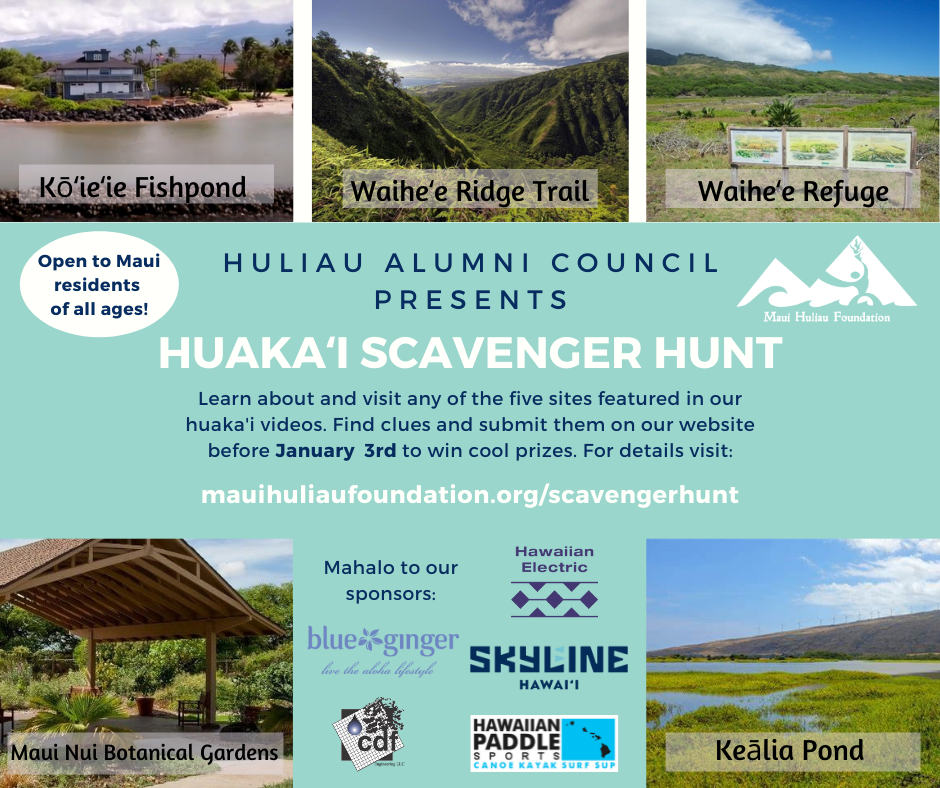 Mahalo to our sponsors for supporting this virtual event and our programs for Maui youth: Skyline Hawaiʻi, Hawaiian Paddle Sports, CDF Engineering, Blue Ginger Hawaiʻi and Hawaiian Electric, and to our site partners featured below!
Guidelines for visiting these sites
When visiting these special sites, please follow the following guidelines: 
Do not disturb sensitive cultural and ecological sites

Follow all site specific guidelines

Stay on marked trails

Do not remove rocks, plants etc.

Follow all COVID protocols

See the information below and the host sites' websites for visiting hours
How to Participate
To complete this scavenger hunt, you will need to find clues for each of the five sites shared below and submit them via this website by 8pm on January 3rd, 2022. There are four clues for each site. These clues can be found by watching our huakaʻi videos below and by visiting each location. This activity was created by our staff, partners and Alumni Council as a fun way to learn more about Maui's history and natural resources this holiday season. 
Step 1: Pick any site to start, watch the huakaʻi video and read the site info.
Step 2: Click on the "clues" tabs and take note of the clues and photos to collect for each site.
Step 3: Visit your chosen site to collect photos and answers to the clues.
Step 4: Upload your photos and answers to the corresponding Google Form below by January 3rd.
Step 5: Repeat these steps for each of the five locations.
Prizes
To qualify for a prize, you must submit at least one Google Form by 8pm on January 3rd. The 1st, 2nd and 3rd prizes will be awarded to people who complete all five sites with the highest scores. If multiple people get all clues correct (maximum score), prizes will be awarded based on who submitted their form first. Limited to one submission per person.
1st prize: $100 Gift card for one of the restaurants below (you choose)*
2nd prize: $50 Gift card for one of the restaurants below (you choose)*
3rd prize: $25 Gift card for one of the restaurants below (you choose)*
All participants who complete all 5 sites: Huliau logo gear pack
All participants who complete at least one site: 5 pack of reusable sporks
*Restaurants to choose from: Tin Roof Maui, Moku Roots, Farmacy, Choice Health Bar, Flatbread Pizza, or Havens
Donate to support our programs!
While participation in the scavenger hunt is free, please consider supporting our programs for Maui youth by donating any amount using the button below. You can also bid on items in our holiday auction until December 5th.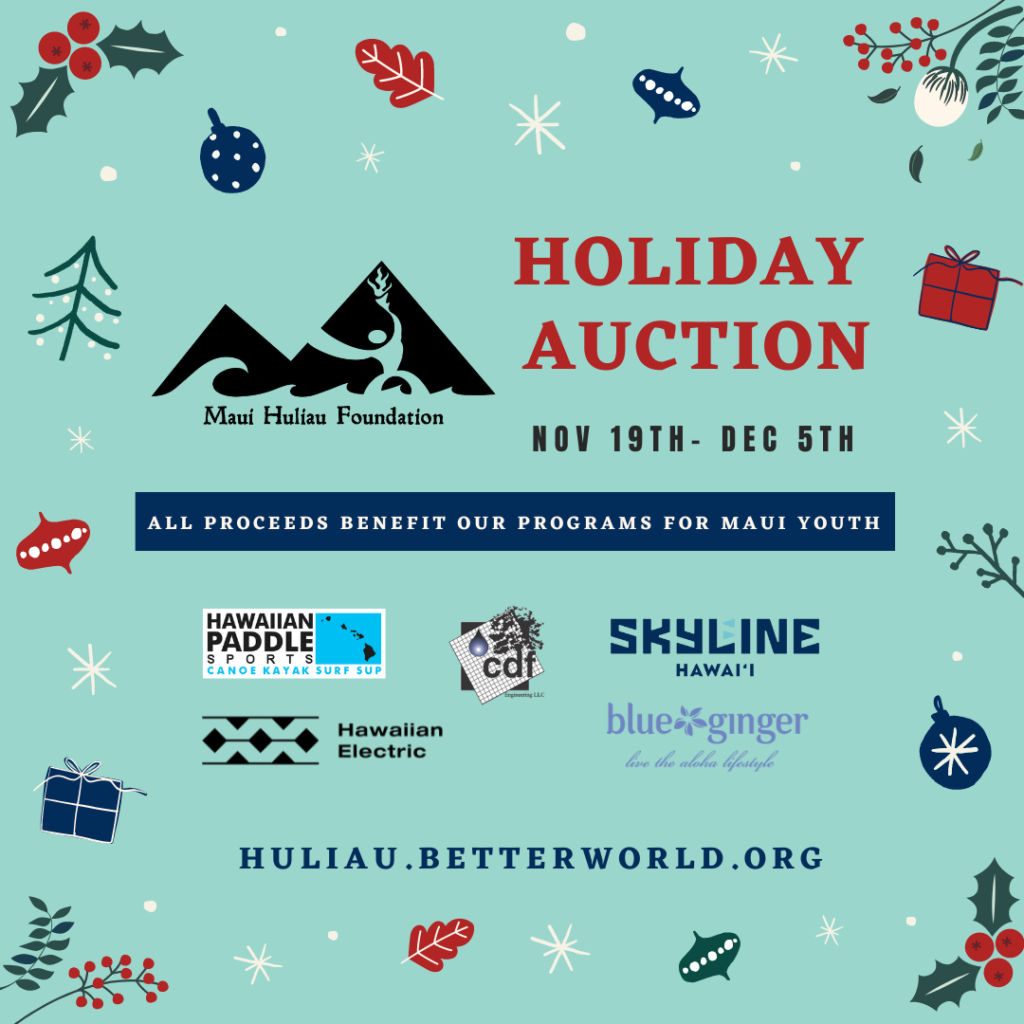 Kōʻieʻie Fishpond is located in North Kīhei in the moku of Kula and the ahupuaʻa of Kaʻonoʻulu. Built 400-500 years ago, each stone was hauled and wedged into place. After centuries of neglect, the Fishpond Association of Maui, Ao'ao O Nā Loko I'a O Maui have been working since 2005 to restore the pond using the same rocks used to build the original wall. Once thriving and common throughout coastal regions, organizations like the Fishpond Association of Maui work to restore these important ancient fishponds. You can visit Kōʻieʻie Fishpond via Kalepolepo Beach Park or nearby public parking areas along South Kīhei Road.
1.   I let the little fish in, and keep the big ones from going out. In this way, I ensure that there is food for everyone. What am I?
2.   According to some Hawaiian moʻolelo, or oral histories, who was said to have built the original fishpond and when was it built?
3.   Back when Kalepolepo was a thriving fishing village, what were the names of the three ahupua'a it spanned across? (found on the sign in the park and referenced in the fishpond names in the video)
4.   Share a photo of the fishpond wall and one fact that you learned from the signs or the huakaʻi video about the history of Kalepolepo village.
Beginning at 1,000′ elevation, the trail climbs the windward slope of Mauna Kahālāwai or the West Maui Mountains through a brushy Strawberry guava thicket, a stand of planted trees, and wet native scrub forest. Views of Waiheʻe Gorge and Makamakaʻole Gulch can be seen along the way. At the peak, at 2,563′ are panoramic views of Wailuku and central Maui, the Kahakuloa slopes, and Mount Eke. Before starting your hike, brush your shoes to remove any mud, seeds,  diseases, or invasive plants that may stick on shoes & gear.  Stay on the trail. The trailhead is located near Camp Maluhia on Maluhia Road off Kahekili Hwy.
1.  I have edible fruit and smooth, multi-colored bark. I make many seeds and grow in thick stands that block the light and choke out other plants, making me one of Hawaiʻi's (and the planet's) most invasive species. What am I? Share the photo you take of this plant and its name.
2.  I am a man-made feature, standing tall to protect the native forest. You can see me far in the distance from the trail looking towards Makamakaʻole. What am I? Name this feature.
3.  Identify and photograph two native plant species found along the trail.
4.  Approximately what percentage of Dept of Water Supply customers receive water from the Mauna Kahālāwai Watershed?
Established in 1992, Keālia Pond National Wildlife Refuge is about 700 acres of protected wetland habitat located in the southern coast of Mauiʻs central valley. Keālia Pond is part of the Waikapū ahupuaʻa and is fed by the Waikapū stream. Here, endangered Hawaiian waterbirds are protected and go about their daily activities, and are joined by migratory birds in winter.  For this activity, you will visit the coastal boardwalk portion of the refuge along North Kīhei Road.
1.   I am a long-legged, slender shorebird with a long, thin beak. I am black and white and can be found at the Keālia Wildlife Refuge. Who am I?
2.   Despite being named after the dark, I am diurnal. My legs are yellow and my eyes are red, not purple. I live in shallow wetlands, just like some turtles. Who am I?
3.  Photograph and identify two different bird species that live in the refuge.
4.  What is a wetland and why are wetland habitats like Keālia such a good habitat for so many different birds?
Maui Nui Botanical Gardens
Maui Nui Botanical Gardens (MNBG) is dedicated to the protection of Maui Nuiʻs rich native plants and cultural heritage. By collecting, cultivating, and distributing native and Polynesian-introduced plants MNBG provides people with a gathering place to see and understand the important relationship these plants have to our economic, social, and cultural livelihoods. The collection is more than 30 years old and is the only botanical garden in the state located on a coastal dune system featuring native Hawaiian coastal and dry forest plants. MNBG is open Tuesday- Saturday 8am-4pm and is free to Kamaʻāina. See their website for holiday hours and other details.
1.   I am a rare cousin of a common plant found along Maui's shorelines. My half flower is associated with a common moʻolelo about lovers separated by Pele. Share the photo you take of this plant and its name.
2.   My leaves are used for weaving, but watch out for my spines. I like to grow in salty windy places and my fruit are used for lei and paint brushes. How many of me are located within the garden? Share the photo you take of this plant, its name and count how many are in the gardens.
3.   I have spicy smelling roots, my stock can be used for cooking, and I am used to heal sprains and to scent kapa. What am I? Share the photo you take of this plant and its name.
4.   Name and photograph two species of kalo (taro) found at Maui Nui Botanical Garden.
Protected and managed by Hawai'i Land trust, the Waihe'e Coastal Dunes and Wetlands Refuge is home to various endandgered native species and houses several archeological sites inlcuding an ancient inland fishpond and multiple heiau. This 277-acre site was once populated by two ancient Hawaiian villages and is regarded among the most significant cultural sites on Maui. The Hawai'i Land Trust ensures that this rich cultural site, once slated for development as a destination golf resort, will be forever protected. The refuge can be accessed via a short dirt road off of Halewaiu Rd from a dirt parking area known as "round tables".
1.   Take a photo of the Waihe'e Sand Dunes and share a fact you learned about them in the Waihe'e Refuge video. (Photograph and short answer)
2.   Take a photo of the heiau at the refuge. Share it's name and one fact about it (from the video or sign). Do not leave the trail or approach the heiau.
3.   Who were the two ancient warriors who fought in the battle of Kalaeʻiliʻili near the center of the refuge?
4.   Pick up at least three pieces of marine debris along the shoreline and photograph them. For once piece, share what you think it is and where you think it came from.